Embracing a New Vision of School Nutrition
As we approach the five-year anniversary of the passage of the Healthy Hunger Free Kids Act, it's worthwhile to revisit some of the schools that were at the cutting edge of creating healthier school meals. Chicago's Academy for Global Citizenship (AGC) has been a pioneer in serving healthy, delicious school meals that exceed USDA school meals standards. Just as important, students love them! Integral to AGC's success is a belief in not only serving positive foods but also in creating a culture that supports wellness. The school's holistic approach relies on parent engagement, physical education, nutrition education, gardening, and more.
The Academy is a recognized national leader in these areas, so much so that Good Morning America visited it in 2011—just after the Act passed—to highlight its work. I was there for the visit and wrote this blog about it. I've been fortunate to visit several times since and am honored to share the blog below, written by AGC's Katherine Elmer-Dewitt. It tells their story and underscores the importance of healthy school food.
In the Spring of 2009, the Academy for Global Citizenship (AGC) was finishing its first year. One hundred Kindergarteners and 1st graders and their families gathered to celebrate the year's growth and share what they had learned. After our first year operating a unique public school model in our little learning laboratory on Chicago's Southwest side, we were anxious to see the results of our daring experiment. AGC was founded by a group of idealistic young leaders with a vision for a fresh approach to public education, one that acknowledged the needs of the whole student, starting with great food. Food has always been a building block of culture, and our school culture was built around mindful eating. We developed a food program that exemplified the highest standards in school food in partnership with the USDA's National School Lunch Program.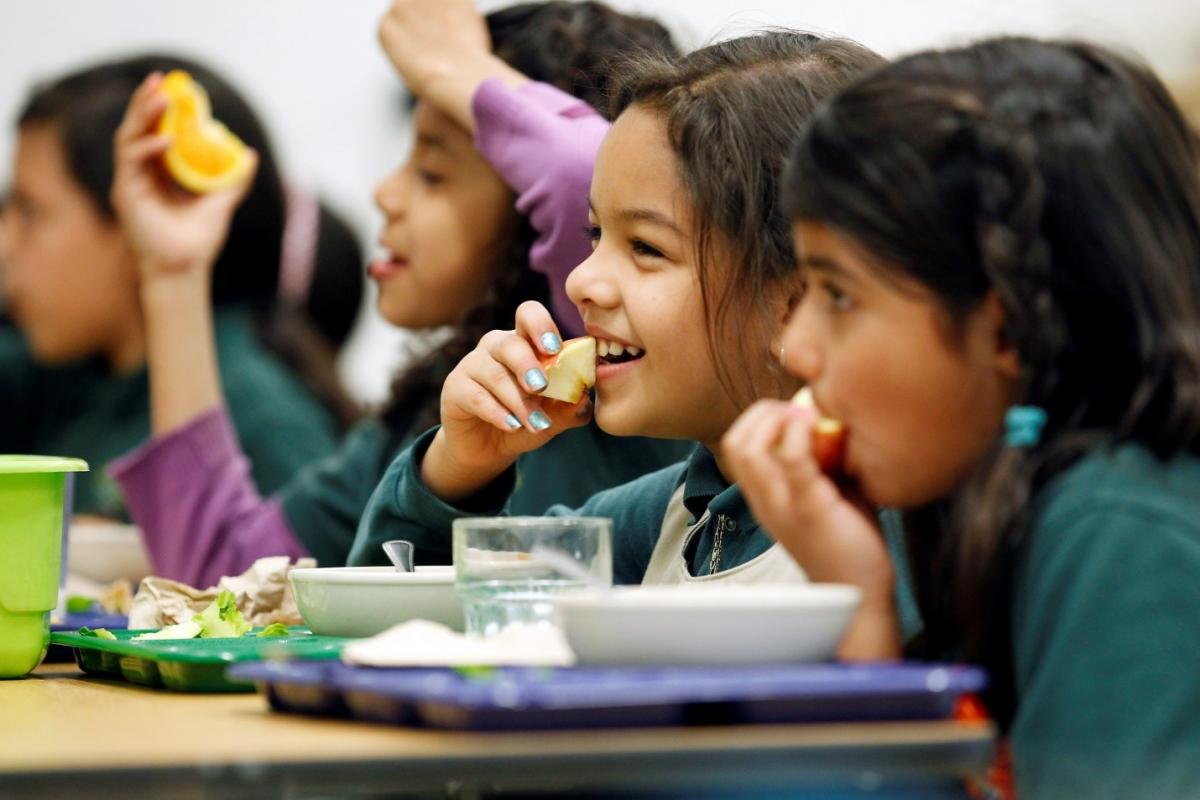 Academy for Global Citizenship studenta enjoy a healthy lunch.
By the end of their first year, our students had absorbed a tremendous amount of knowledge and, to our great delight, the environmental and global mission of the school. As young as they were, AGC students were already composting, recycling, and collaborating with sister schools around the world. Students demonstrated a basic understanding of the science of nutrition and a powerful empathy for the earth and its people. They were eating well and loving it, no longer associating healthy and nutritious foods with bland flavors or strange textures. Our families also reported eating better at home and understanding more the importance of positive nutrition. The seeds of a healthy community had been planted and we were starting to see the fruits of our labor germinate.
Our organic food program was created as a pilot for the Chicago Public School system and has aspired to be an example of USDA school nutrition standards. Per USDA guidelines, we also developed a wellness policy that reflected our commitment to promoting whole, organic and local foods. We were one of the nation's first recipients of the HealthierUS School Challenge award, earning a Gold Award of Distinction in recognition of exemplary food and fitness initiatives. We wanted to explore the challenges and rewards of a highly nutritious, organic school program within the National School Lunch Program and encourage scale across the district. While there were certainly challenges, the rewards were remarkable. We saw improvements in our students' energy, attention, and capacity for learning, accompanied by a growth of 40 percentage points in literacy standards that first year alone.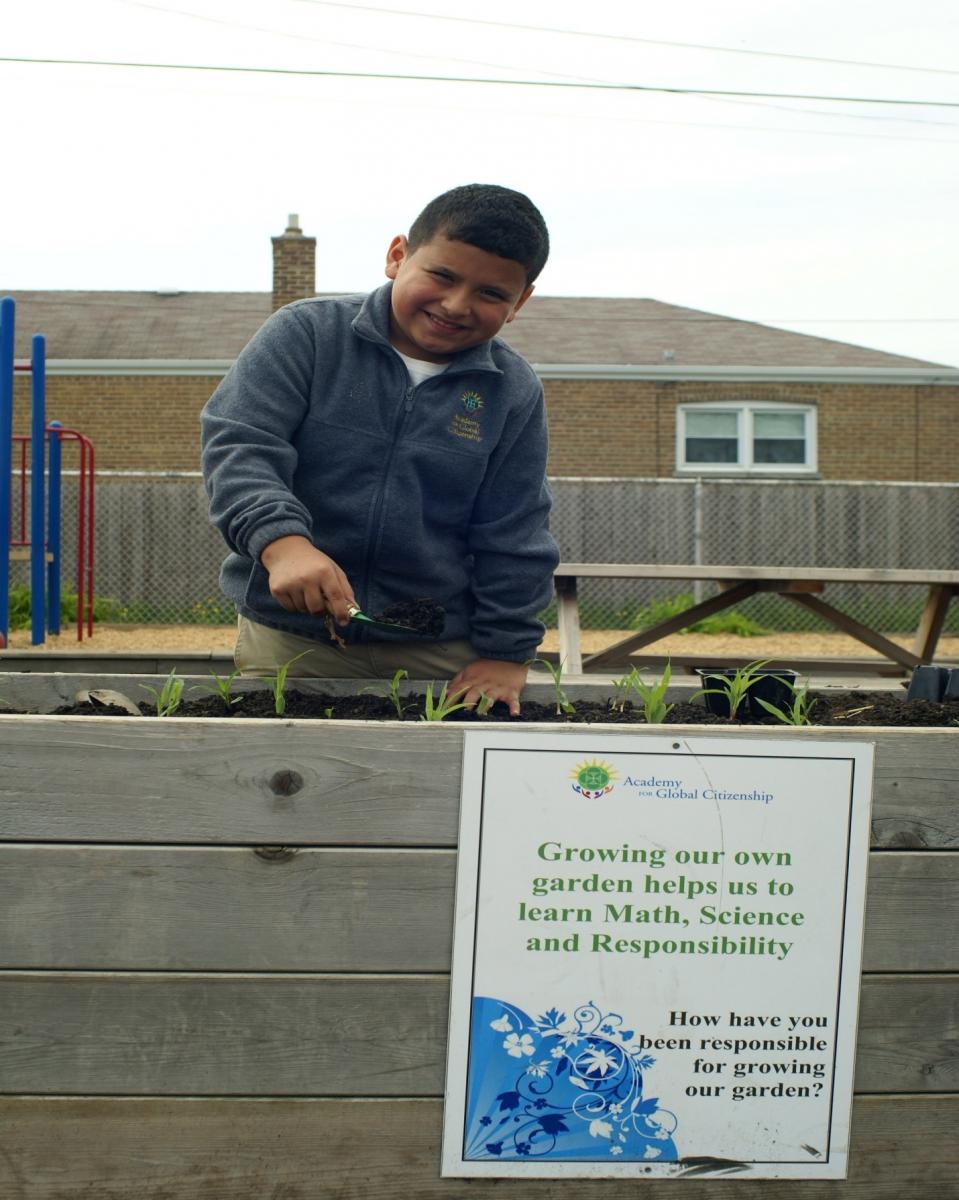 Academy for Global Citizenship student at work in the school garden.
Since then, we have added a grade level each year to keep up with these young trailblazers. Growing with our students and their families has afforded us a thrilling opportunity to watch the mission of the school blossom through them. Six years later, we are proud to report that our food program is filling bellies and nourishing brains better than ever. Those smiling 1st graders from 2009 are now strong, healthy and empowered 6th graders, and they are already taking steps to spread AGC's culture of wellness beyond the walls of our school.
Following the mission established at our founding, our students are taking action to positively impact their communities and the world beyond, launching recycling campaigns in their homes and communities, composing anti-violence slam poetry, and developing healthy recipes to share with their families. Our students embrace tofu, whole grain pizza and Meatless Mondays as an aspect of their healthy and caring community. At our winter talent show, a 3rd grade group performed an interpretation of "The 12 Days of Christmas," that celebrated all things AGC, including "three gardens growing, two chickens clucking, and a big piece of tofu for me." Exceeding expectations, good food has become the center of a community identity that has developed around and among our students and families.