The Cafeteria is the Biggest Classroom in the School
Mount Desert Elementary School (MDES) is a small school with a big vision, located on Mount Desert Island off the coast of Maine. Here we strive to promote a healthy lifestyle for our students through physical activity and nutrition education.
The cafeteria is the biggest classroom in the school where students are taught to make healthy choices for themselves beginning in kindergarten. Students progress each day through a fruit-and-vegetable bar and an entrée station. Along this route they choose the nutritious and appealing foods they need to build a balanced meal according to the new school meal standards issued by USDA. Many of our entrée offerings are multinational, which is a great way to introduce students to nutritional foods from a variety of cultures. By empowering students in the cafeteria, they learn to make healthy choices for life.
Farm to School is a large part of our program, for this reason we utilize foods from local farms and Maine's largest farm, the ocean. We have served lobster rolls, locally caught haddock and shark. We love to prepare foods the students have harvested from local farms and our school garden and have found that our students are invested in the school's foodservice program. Since 2007 we have had a Culinary Arts Club, where students help in the kitchen before school, at break time and after lunch.
All students receive 90 minutes of physical education each week, have access to a variety of sports programs, and can join a walking club. Grades K-5 participate in yoga sessions and incorporate mindful movement throughout morning meetings, classroom transitions and during academic lessons.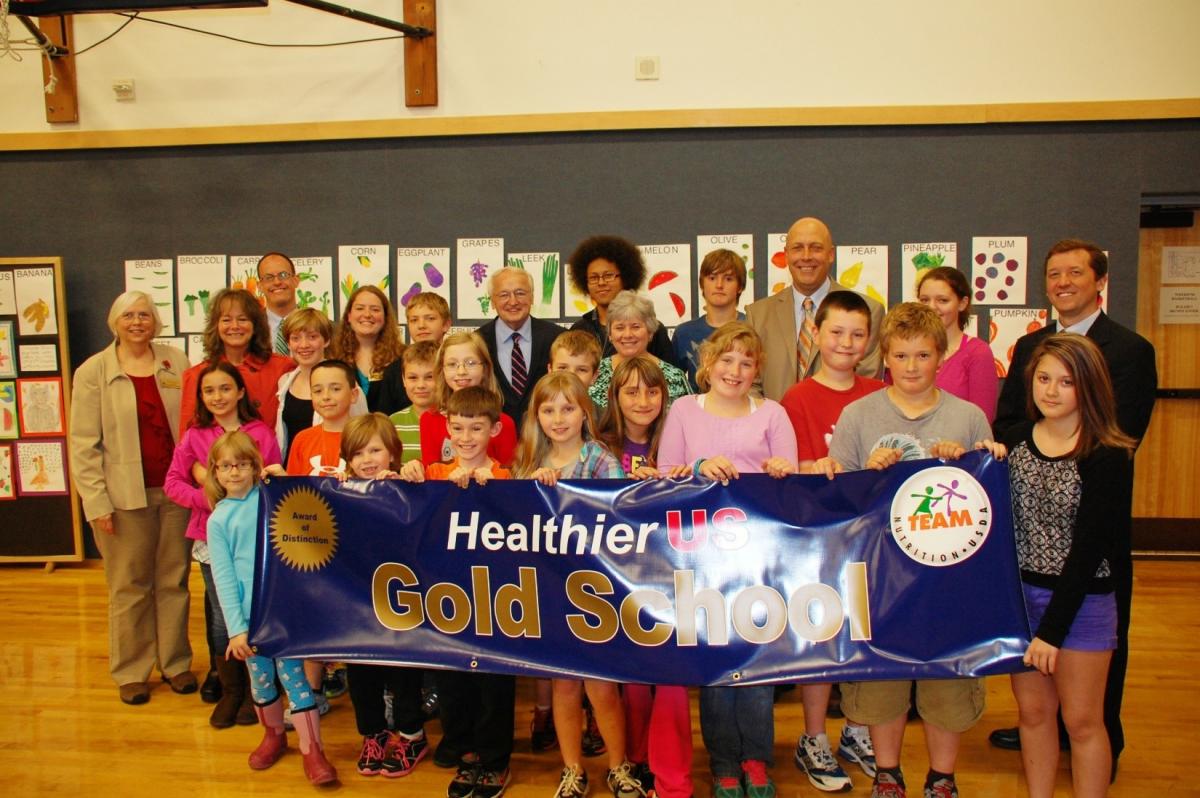 These collective efforts resulted in MDES being the very first school in Maine to receive the HealthierUS School Challenge Gold Medal of Distinction. Students and staff are very proud of the recognition and gave a standing ovation during the award ceremony.
At MDES we are excited to be involved in our students' journey to a healthier lifestyle. As head cook, I'm happy to share one of the students' favorite dishes:
Ham Jambalaya (100 servings)
This recipe was the runner-up of the rice bowl category in the USA Rice Federation's Healthy Brown Rice on the Menu Contest!
1 cup olive oil
3 cups chopped onion
3 QT chopped sweet green peppers
3 QT chopped sweet red peppers
2 cloves garlic minced
7 5/8 lb chopped deli ham
11 1/8 pound brown rice
1 Tbsp poultry seasoning
1 Tbsp salt
2 10-ounce cans diced red tomatoes
1 ¾ QT water
Add water as needed
Heat oil in a Dutch oven or heavy large saucepan; add onions, bell peppers, and garlic. Cook stirring occasionally until lightly browned. Add ham and rice; cook and stir until rice is well coated with oil. Add poultry seasoning, salt, tomatoes and water. Cover and simmer until rice is tender and liquid absorbed, about 20-25 min. Add water as needed and cook as you would risotto. Taste for seasoning and add more salt and pepper as needed. Hot peppers sauce can be used to spice it up.