A Toast to the First Anniversary of Drink Up with the Top 5 Moments from the Past Year
Today marks the one year anniversary of the Drink Up campaign launched by the Partnership for a Healthier America and First Lady Michelle Obama. It has been a great first year for the campaign with many moments to highlight starting with the splashy water festival in Watertown, WI. Since launch, Drink Up has encouraged millions of Americans to drink more water more often as a way to improve their health and help boost energy and increase focus!
To date, the Drink Up message has been seen on over one billion products and reached hundreds of millions of people through social media, advertising, events, and celebrity ambassadors. More than 60 companies and organizations have joined to support the movement to share Drink Up's message, encouraging others to #SpreadTheWater.
We are excited that the movement is contributing to a shift in some behaviors, and we have seen water consumption and purchasing on the rise! A study from Nielsen Catalina Solutions (NCS) found a 3% lift in incremental sales of bottled water among those exposed to the campaign. In addition, data from the Natural Marketing Institute showed an increase in water consumption from the end of last year through this summer.
With so many unforgettable Drink Up moments, it's hard to choose just one so we've recapped our top 5 Drink Up moments from this past year:
Never too busy to lend a hand (or take a sip), our furry friends Bo and Sunny joined the movement to help #SpreadTheWater. Take a look:
A giant water droplet made of re-usable water bottles took over the White House South Lawn to celebrate new commitments from the tap water industry.
Catch the First Lady's remarks from the event here.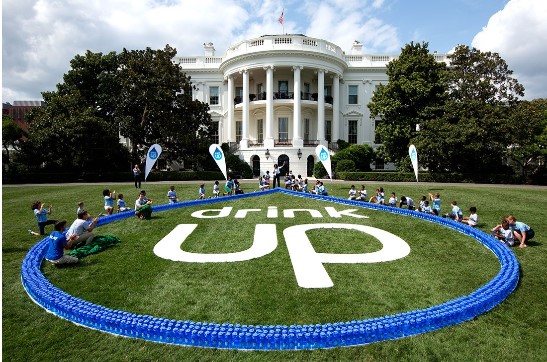 First Lady Michelle Obama and children from a DC YMCA and Arlington County Department of Parks and Recreation show off a Drink Up logo during an event on the South Lawn of the White House, July 22, 2014. (Official White House Photo by Chuck Kennedy)
Drink Up added a splash of style by collaborating with fashion industry partners in order to encourage the nation to drink more water. From co-branded merchandise and water bottle displays to in-store activations and awareness campaigns, the fashion industry creatively used their talents to #SpreadTheWater.
Drink Up with a splash of style: Fashion industry commits to supporting @URH2O to #spreadthewater → http://t.co/PBgmoRmflJ

— Let's Move! (@letsmove) June 25, 2014
Philadelphia, Pennsylvania joined Drink Up as the first location to engage in a city-wide activation encouraging its residents to drink more water. Over the course of this year, the city will be helping to share the Drink Up messages through corner stores, schools, farmers' markets and more.
We're in the City of Brotherly love w/ @thefoodtrust to launch the first @urH2O citywide effort @drinkupPHL pic.twitter.com/reYV8kISPs

— URH2O (@URH2O) May 8, 2014
And finally, Drink Up made its way to the Oval Office! President Obama and Vice President Biden helped to share the importance of drinking more water. Check it out: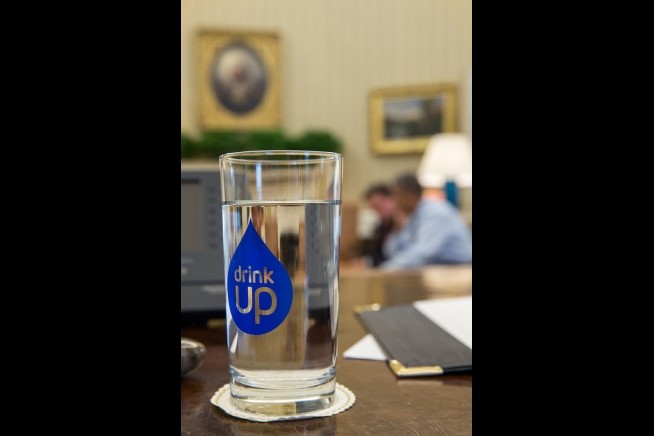 A "Drink Up" water glass sits on the Resolute Desk as President Barack Obama meets with Director of Speechwriting Cody Keenan in the Oval Office, Sept. 25, 2013. (Official White House Photo by Pete Souza)
Let's all raise a glass of water and cheers to what a great year it's been! And we've only just begun! We look forward to continuing to encourage Americans of all ages to drink more water more often.
Don't forget, you are what you drink, and when you drink water, you Drink Up!
Thirsty for more? Visit youarewhatyoudrink.org to get involved.