Making Strides with School Meals
Although implementing the meal standards has had some challenges, Des Moines Public Schools have been successful in making school meals nutritious and attractive to students by implementing a number of creative solutions and approaches.
Some of the ways Des Moines Public Schools has been successful include the following examples:
New Menu Options: We have incorporated more Asian inspired items that have been well received by the students. One of the popular items is fried rice, using brown rice, paired with teriyaki chicken, stir-fry veggies, and cherry tomatoes.
Fresh Fruit and Vegetables: More fresh fruits and vegetables have been incorporated into our school meals. Popular items are zucchini moons, red pepper slices, fresh strawberries, and black bean and corn salsa.
Breakfast in the Classroom: During the 2013-14 school year we implemented breakfast in the classroom in 12 elementary schools and 3 middle schools. As a result of this program, they have seen a 33% increase in school breakfast participation.
Iowa Nutrition School Grant Program (SNAP-ED): Supports Pick-a-better-snack™ programming designed to improve fruit and vegetable and low-fat dairy consumption in 28 DMPS elementary schools. The program delivers classroom-based nutrition and physical activity education supported by social marketing strategies and taste testings that promote school meal menu items.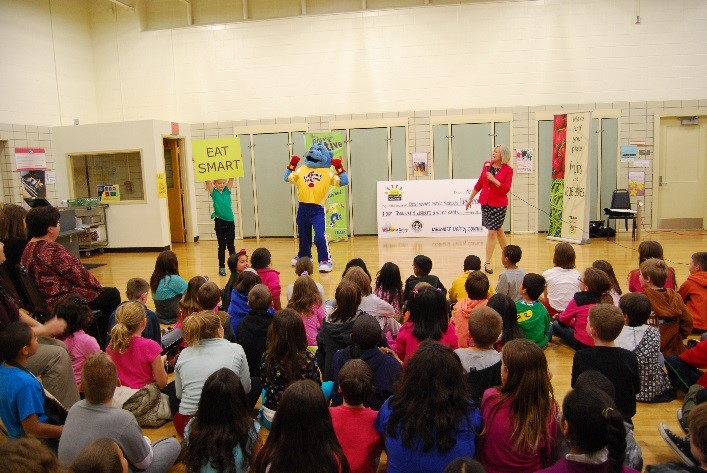 The Power Panther encourages kids to Eat Smart and Play Hard during a HealthierUS Schools awards assembly.
Food Corps: Two FoodCorps Iowa service members spent the 2013-14 year serving DMPS. They focused their attention on building healthier school environments at five elementary schools and one middle school. They maintained and renovated school gardens, organized farm field trips, taught nutrition education lessons, conducted afterschool cooking classes, and helped source healthy tastings from local farms.
School Food FOCUS: School Food FOCUS leverages the knowledge and procurement power of large school districts to make school meals nationwide more healthful, regionally sourced, and sustainably produced. I have been a member of this national collaborative since 2011.
HealthierUS School Challenge: A total of 11 DMPS schools have received the HealthierUS School Challenge Award, with an additional one under review! The awards have brought recognition to the district for their work in creating healthier school environments through promotion of nutrition, physical activity, nutrition education, and wellness policies.
So what does success look like? Meet Hazel. Hazel attended preschool this past school year at DMPS. She has never been a big fan of vegetables. That is, until she experienced school lunch. Now she asks her mom to purchase red peppers so she can enjoy them at home, too!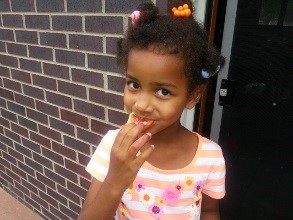 Hazel, a preschool student, learned about new vegetables after eating school lunch last school year
It's not just school lunch. It's bigger than that.