A Fresh and Healthy Start to the New School Year
Summer is winding down, and kids across the country have started to head back to school. Over the course of the school year, kids will be spending the majority of their days in school, which provides an important opportunity to ensure that schools foster healthy environments for kids to learn and grow. Offering healthy meal and snack options and ample opportunities for physical activity are critical to their success in school and in life. Quality, nutritious foods help to fuel our performance in anything we do.
Four years ago, the Healthy Hunger-Free Kids Act was passed to update school nutrition standards and require more fruits, vegetables, whole grains, lean protein, and low-fat dairy as part of school meals. Thanks to the hard work of school chefs and food service workers across the country, 90 percent of schools are now meeting these modern nutrition standards, and new research shows that the majority of students like the new, healthier lunches. In addition, the U.S. Department of Agriculture continues to provide flexibility and more assistance to help all schools successfully implement the standards.
Click here to learn more about the Healthy Hunger-Free Kids Act and positive results of improved school meals.
Also in 2010, Let's Move Salad Bars to Schools (LMSB2S) was created to provide children with daily access to fresh fruits and vegetables. Since the launch of LMSB2S, over 3,500 salad bars have been donated to schools across the country. A recent evaluation of LMSB2S found that salad bars not only increased students' access to fresh fruits and vegetables, but also increased student participation in the school lunch program.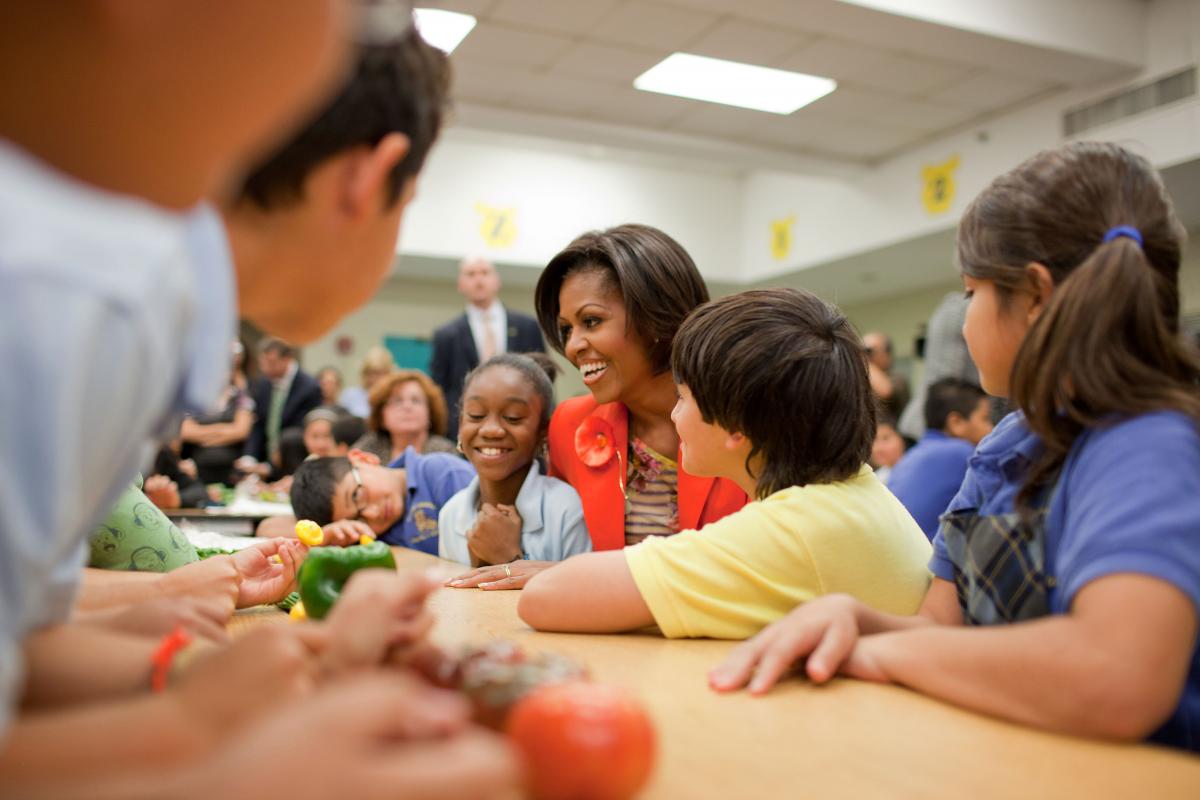 First Lady Michelle Obama joins students for a "Let's Move! " Salad Bars to Schools launch event at Riverside Elementary School in Miami, Fla., Nov. 22, 2010. (Official White House Photo by Chuck Kennedy)
Smart Snacks in Schools
A component of the Healthy Hunger-Free Kids Act being implemented this year is the Smart Snacks in Schools standards which set guidelines for food sold in schools through vending machines and a la carte lines. These standards do not regulate bake sales and fundraisers; states have complete authority to set policies that work for them.
In an effort to create a healthier school environment, these standards are important to improve the nutritional quality of certain foods and beverages sold during the school day. In addition to the healthier school meals, these standards also give parents peace of mind that their hard work to keep their kids healthy at home isn't being undermined while they are at school.
Click here to learn more about the Smart Snacks in Schools standards.
Community Eligibility Helps Schools Serve More Students Nutritious Meals
The Community Eligibility Provision of the Healthy Hunger-Free Kids Act allows schools that mostly serve low-income children to offer free, nutritious school meals to all students through the National School Lunch and School Breakfast Programs. The provision provides a great opportunity to reduce childhood hunger and give more students healthy school meals, and we encourage schools to take advantage of the opportunity. The deadline for schools to sign up for the Community Eligibility Provision is August 31, 2014.
Click here to learn more about Community Eligibility and see if your school is eligible to participate.
Active Kids Do Better: Let's Move! Active Schools
In addition to providing students with healthy options for meals and snacks, equally important is providing students with opportunities for physical activity. We know when kids are active, it not only helps them stay healthy, it can also lead to improved academic performance and better behavior and attendance.
That's why we launched Let's Move! Active Schools, a comprehensive program that empowers school champions – physical education teachers, classroom teachers, principals, administrators, and parents – to create active environments that enable all students to get moving and reach their full potential. Since launching in February 2013, more than 9,000 schools have signed up and committed to reintegrating physical activity before, during, and after the school day.
Click here to learn more about Let's Move! Active Schools and sign up to join the movement!

First Lady Michelle Obama participates in musical activities with students during a back to school "Let's Move!" Active Schools event at Orr Elementary School in Washington, D.C., Sept. 6, 2013. (Official White House Photo by Chuck Kennedy)
Kick off the new school year with a full recap of recent activities and stay informed with Let's Move! by visiting the Let's Move! blog, liking us on Facebook and following us on Twitter.