Children's Museum Takes Different Approach on Childhood Obesity
A generation ago, kids were outside playing in their yards, in their neighborhoods, and on the local playgrounds. Physical activity was limitless as kids played freeze tag, ran around in the sprinklers, and swam in the pool until the street lights came on, when it was time to go home. Imagination is what inspired "play."
Today, with all the technology that's been developed, it's hard for kids not to be entranced by video games, tablets, and other electronics that can make them much more sedentary and less fit. So how do we ensure our kids stay active and healthy? It's a question that has been posed frequently for the past several years.
Through Let's Move! Museums and Gardens, museums, zoos, gardens, science and technology centers can answer the call to action by launching community efforts to help create a healthier generation of kids. The Children's Museum of the Treasure Coast is tackling the issue of childhood obesity, and has gone the extra mile to fight it.
The Children's Museum of the Treasure Coast, located in Jensen Beach, FL opened in 2008, and our staff felt the need to go beyond a pen and paper approach to teaching kids about good nutrition, staying active and making healthy choices.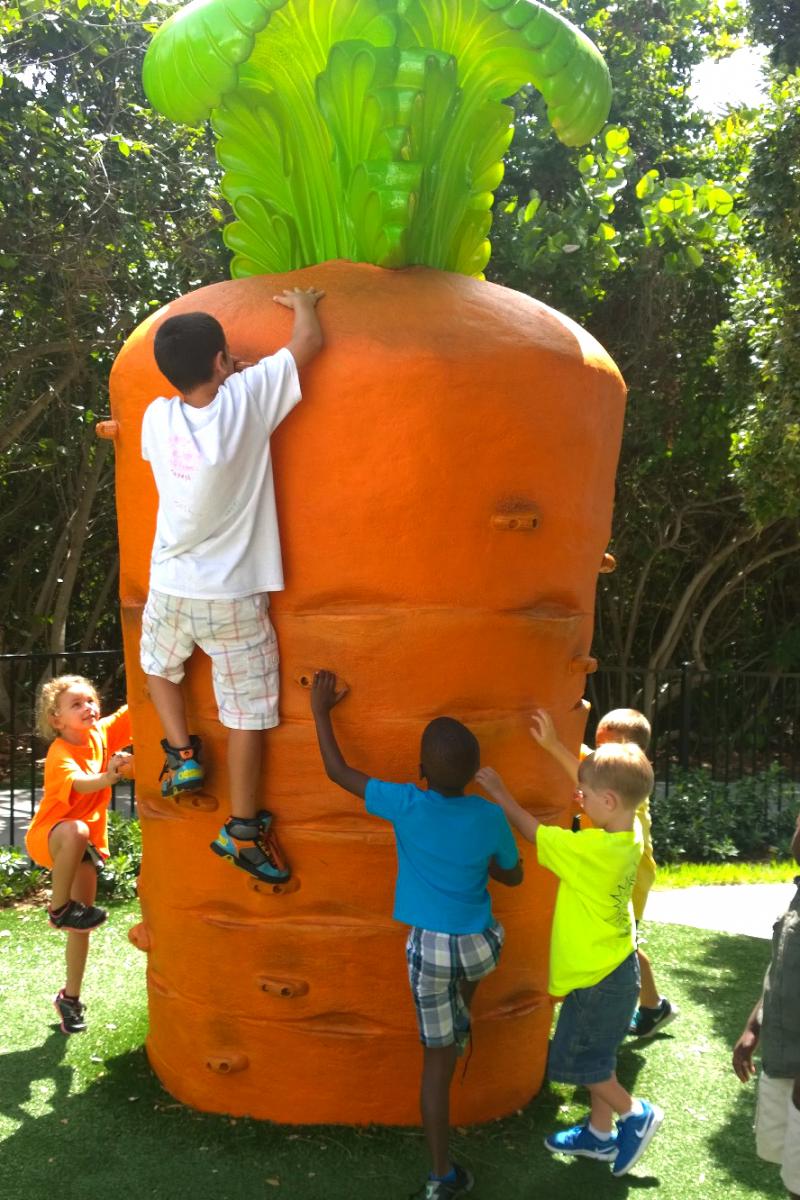 Kids at the Children's Museum of the Treasure Coast climb the 10-foot carrot play structure, inspired by Spiffy's Once Upon A Farm
Our prime area focusing on wellness and nutrition is our 1000-square foot interactive garden. "Spiffy the Grasshopper" has quickly become the favorite mascot of the garden. Who is Spiffy? He comes from Spiffy's Once Upon A Farm children's book series created by Nancy Erlick. His goal is to teach kids how to live a healthy balanced lifestyle. He uses his balance board as a tool to help kids "get on board" with choosing good healthy foods. Spiffy's Once Upon A Farm creates an early, positive association for children to get excited about healthy habits, physical fitness, and having fun in the process. We teamed up with the Martin Memorial Health Foundation and private donor David Smythe to install play structures based on depictions from Spiffy's Once Upon A Farm. Kids can climb the 10-foot carrot and slide down the 15 foot squash slide, having fun while getting fit and physical.
Another tactic The Children's Museum of the Treasure Coast has used is our pizza garden, where we show kids how to grow vegetables such as eggplant, onions, tomatoes, and radishes—the children have even made their own salsa and pizza from the garden. The Children's Museum's Adventures In Nutrition program, which thousands of students have participated in since 2009, includes exploration of the pizza garden and lessons focusing on nutrition, food groups, serving size, and the importance of making healthy choices. The Junior League of Martin County has also partnered with the museum through its national Kids in the Kitchen project to teach children how to make healthy snacks.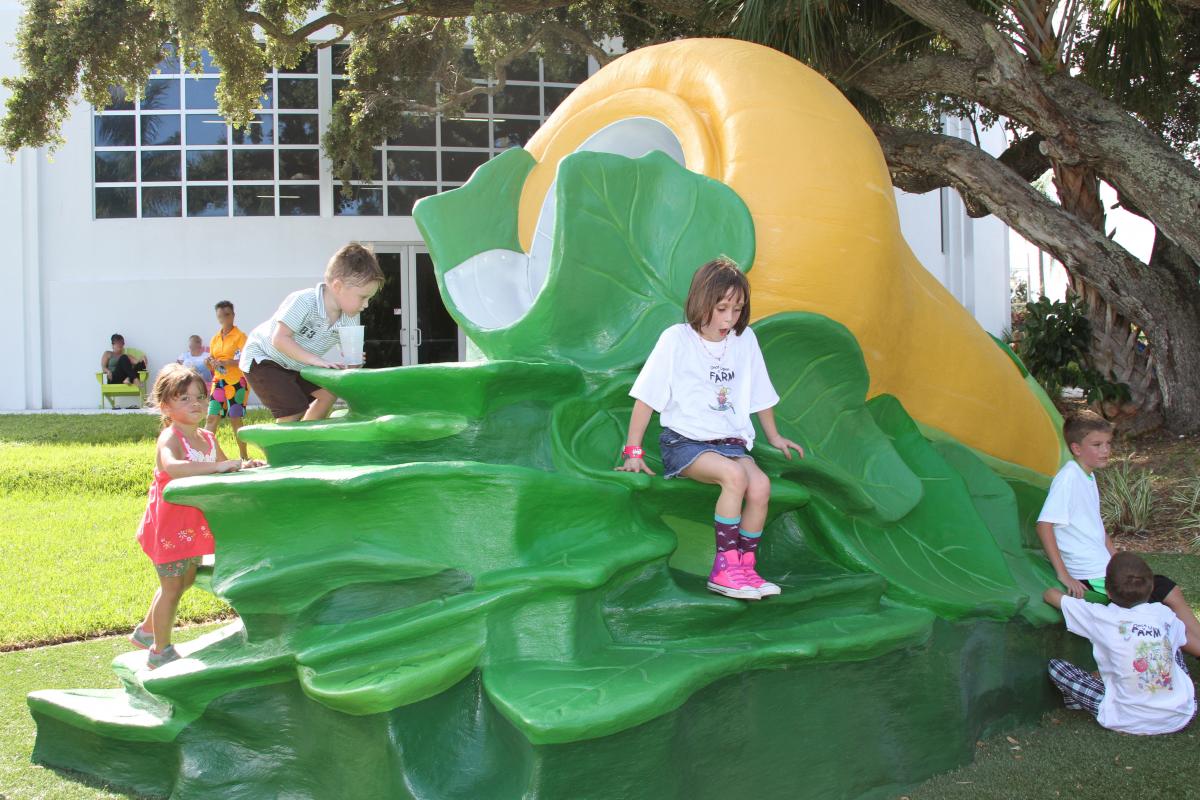 Kids play on the 15-foot squash slide
"We take the issue of childhood obesity very seriously," stated Tammy Calabria, the museum's executive director. "The Children's Museum is very proud to have found a unique approach to fighting this epidemic, and we anticipate coming up with more wonderful ideas to keep kids fit in a way that's fun for them."