Quinoa Lentil Burgers with Kale Salad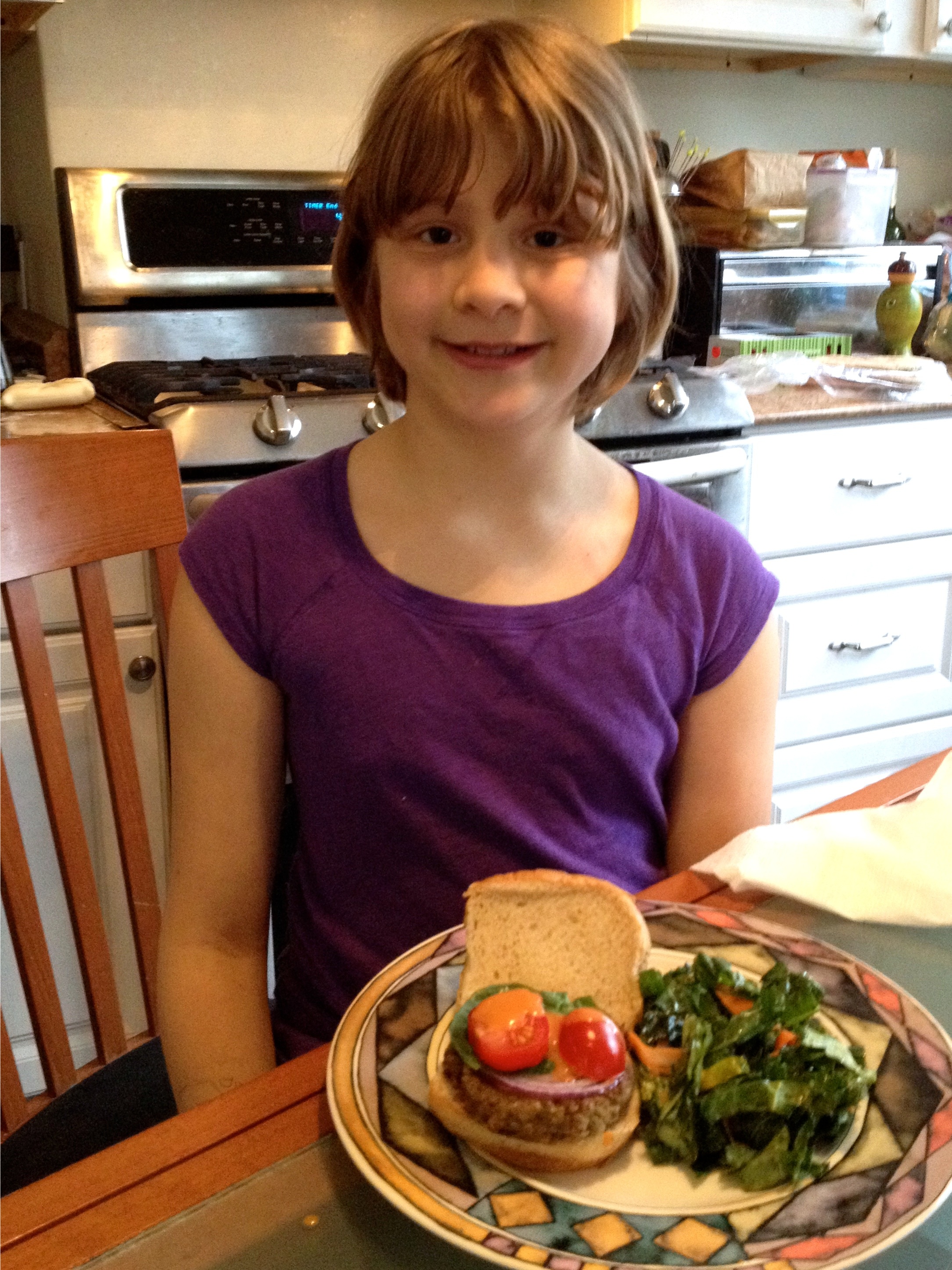 "My family and I were cleaning out our house for Passover," says Yonah, "and I wanted to give myself a challenge. I used ingredients that we needed to get rid of for Passover for the burger. Then I thought, kale is a very big power food, and I have it a lot and enjoy it, so why don't I make a salad with it? I was thinking that most burgers come with coleslaw, so I made a kale slaw instead." - Yonah Kalikow, age 10, Massachusetts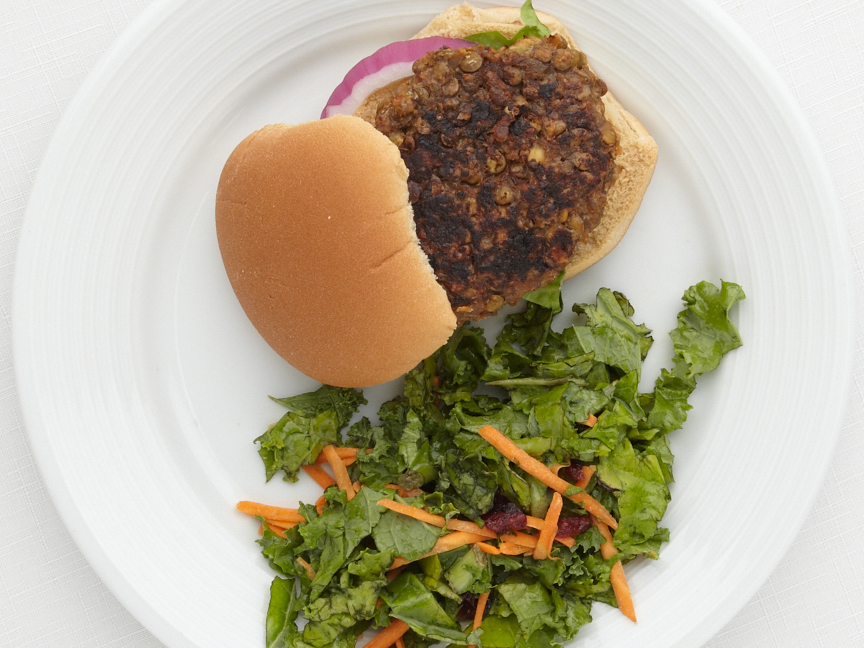 Makes 4 to 8 servings
Ingredients:
For the Burgers:
½ cup quinoa
1 cup dried green or brown lentils
3 bay leaves
¼ cup olive oil
1 large tomato, finely diced
1 medium yellow onion, peeled and grated or chopped
2 tablespoons low-sodium soy sauce
½ cup BBQ sauce
1 cup wasabi peas
Hamburger rolls
Garnish: Tomato and onion slices, lettuce leaves
For the Kale Slaw:
1 bunch kale, chopped
2 carrots, peeled and grated
¼ cup dried cranberries
Juice of ½ lemon
For the Dressing:
½ lemon
2 tablespoons mustard
2 tablespoons raw agave syrup or honey
For the Sauce:
2 tablespoons Sriracha
2 tablespoons mayonnaise
2 tablespoons mustard
1 tablespoon raw agave syrup or honey
Preparation:
To cook the quinoa/lentils for the Burgers: In a large pot, combine quinoa and lentils. Add 3 cups of water and bay leaves, bring to a boil over moderate heat, cover, and cook on low for about 30 minutes, or until quinoa and lentils are tender. Remove from the heat and discard the bay leaves.
In a wok or sauté pan, warm 2 tablespoons olive oil over moderate heat. Add the tomato and onion and sauté for 5 minutes or until soft. Add the lentil/quinoa mix, soy sauce and BBQ sauce, and stir for 2 minutes.
To make the Kale Slaw and Dressing: In a large bowl, combine the kale, carrots, and cranberries. Squeeze lemon over slaw, add mustard and agave, and stir well to combine.
Put the wasabi peas into a blender and coarsely grind. Add two-thirds of the lentil/quinoa mixture and pulse until smooth, then return to pan, mix thoroughly and let cool. Once cool, shape into 4 large patties or 8 small ones.
In a large sauté pan, warm the remaining olive oil and cook patties over moderate heat for 3 minutes on each side, or until lightly golden. Meantime, in a small bowl, combine all of the sauce ingredients. Serve on rolls with sauce and slaw.
431 calories; 13g fat; 36 carbohydrates; 14g protein
More information about the Kids' State Dinner:
Check out the other winning 2014 Kids' State Dinner Recipes here.
Learn more about Kids' State Dinner here.