Around the World in One Bite

"My mom and I went to an event called The Taste of Diversity. I tasted three different kinds of pockets from different places in the world," says Lucy. "I decided to make a pocket. We talked about different kinds of filling, and we decided to start with some of my favorite vegetables, sweet potatoes and kale. I said that our recipe was like an Indian samosa, a Spanish empanada, and an Asian spring roll all at the same time. It's like going around the world in one bite." - Lucy Fairhead Hickerson, age 8, Kentucky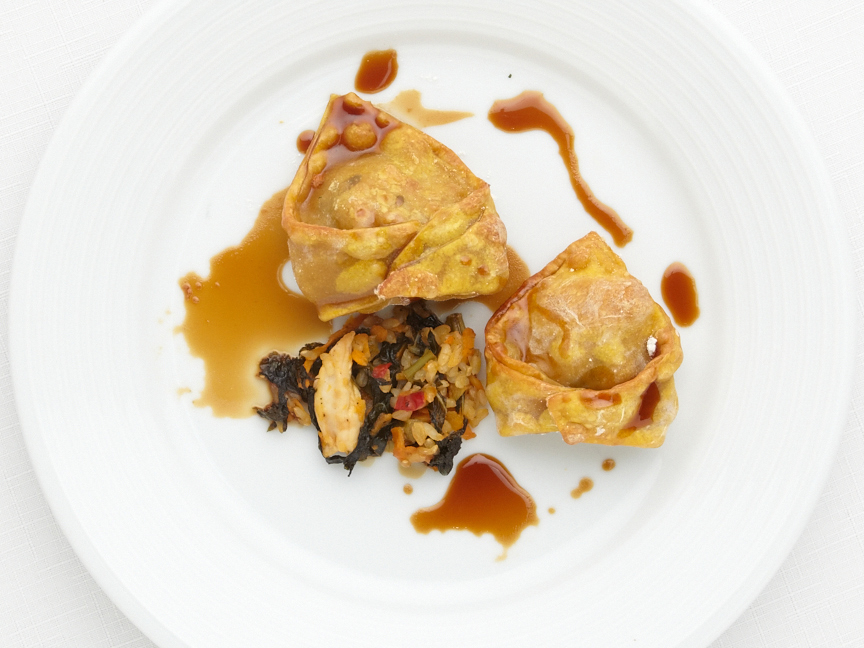 Makes 10 servings
Ingredients:
1 tablespoon vegetable oil
1 scallion, chopped
½ cup finely diced red bell pepper
4 cups chopped kale
3 cups shredded or grated sweet potato
½ cup crushed pineapple in juice, not drained
2 cups shredded cooked chicken
½ cup cooked brown rice
⅛ teaspoon cayenne pepper
½ teaspoon salt
2 tablespoons chopped cilantro
1 package 6-inch egg roll wrappers
⅓ cup plain yogurt
2 tablespoons lime juice
2 teaspoons honey
Preparation:
In a large sauté pan, warm the oil over medium heat. Add the scallions and peppers and cook for about 2 minutes. Add kale and sweet potato and cook for 5 minutes more, stirring often. Add the pineapple and its juice, chicken, rice, cayenne, and salt and cook until vegetables are soft, about 5 minutes. Remove from heat and add cilantro.
Preheat the oven to 400°F. Fill each egg roll wrapper with approximately 3 tablespoons filling in the center of the roll. Fold in both sides and tightly roll closed according to egg roll package instructions. Bake on a cookie sheet for 10 minutes or until lightly golden. While the pockets cook, whisk together the yogurt, lime juice, and honey for a dipping sauce.
289 calories; 5g fat; 37g carbohydrates; 14g proteins
More information about the Kids' State Dinner:
Check out the other winning 2014 Kids' State Dinner Recipes here.
Learn more about Kids' State Dinner here.