Ahlissa's Rainbow Caribbean Soup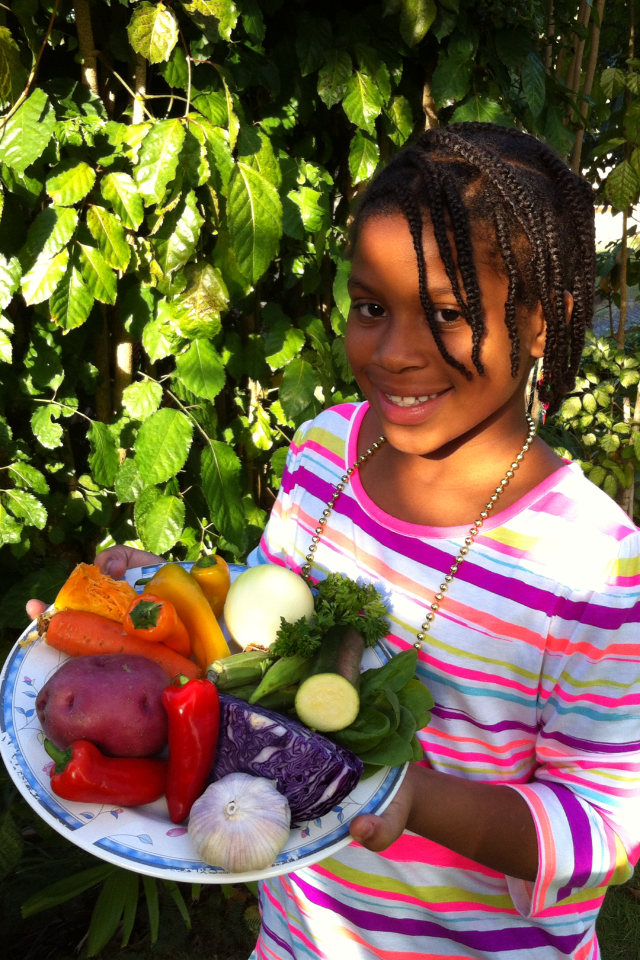 "My mom always said that it was important to eat different-colored vegetables, but it wasn't until I saw a beautiful rainbow last week that I felt encouraged to add colorful vegetables to my mother's traditional chicken soup," says Ahlissa. "Adding these vegetables to soups is an easy way to try new vegetables. My soup has 13 different vegetables in it. I challenge the nation to eat as many different-colored vegetables as they can!" - Ahlissa Pierce, age 9, Virgin Islands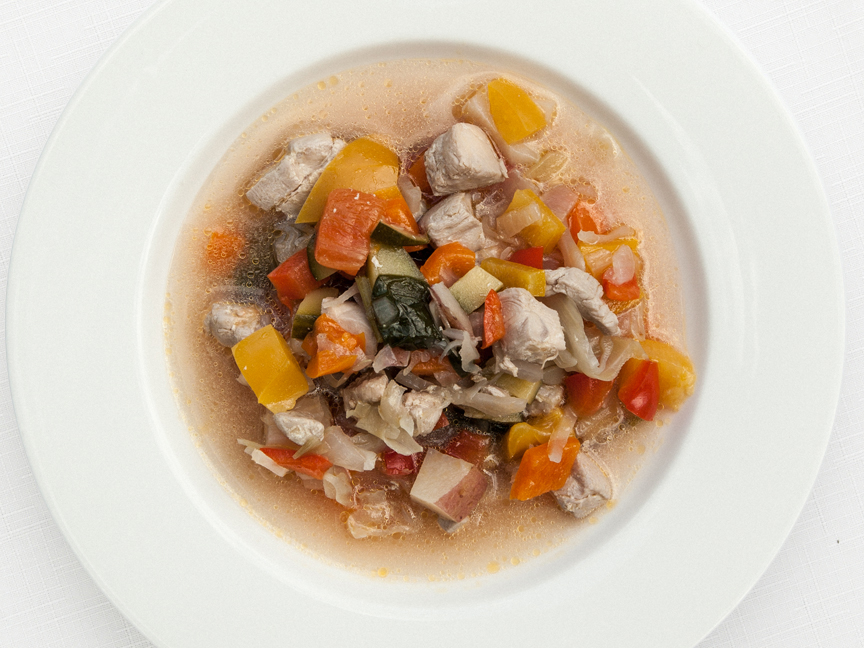 Makes 10 servings
Ingredients:
For Soup:
2 tablespoons vegetable oil
1½ yellow onions, peeled and minced
4 skinless boneless chicken breasts, chopped
6 minced garlic cloves
2 tablespoons chopped parsley
3 bell peppers—red, orange, and yellow--seeded and chopped
3 carrots, peeled and chopped
2 red potatoes, chopped
1½ cups chopped purple cabbage
1½ cups cubed pumpkin or sweet potato
1 zucchini, chopped
3 okras, sliced
1½ cups chopped baby spinach
Sea salt and black pepper to taste
For Wheat Dumplings:
1 cup whole-wheat flour
1 tablespoon olive oil
1 teaspoon sea salt
Preparation:
Make the Soup: In a large stockpot, warm the oil over moderate heat. Add the onions and cook until soft, about 5 minutes. Add the chicken, garlic, parsley, peppers, and 1 cup of water and cook for 5 minutes. Add the remaining ingredients and 11 cups of water. Bring to a boil, then reduce the heat to low and simmer for 30 minutes.
Meanwhile, make the Wheat Dumplings: In a large bowl, combine the whole-wheat flour, sea salt, and olive oil. Drizzle ¼ cup water in slowly and knead for 2 minutes. Shape into small balls and flatten. Add to soup during its last 10 minutes of cooking and then serve.
300 calories; 11g fat; 32g carbohydrates; 19g protein
More information about the Kids' State Dinner:
Check out the other winning 2014 Kids' State Dinner Recipes here.
Learn more about Kids' State Dinner here.