Experience the White House Kitchen Garden!
In keeping with the President and First Lady's commitment to open the People's House to as many people as possible, tours of the White House Kitchen Garden are back and now available to community organizations as well as school groups with an interest in gardening and healthy eating. Come smell the beautiful, brightly colored fruits and vegetables in the Kitchen Garden, including herbs grown from Thomas Jefferson's garden at Monticello, see the vibrant flowers in the Pollinator Garden, and hear the bees buzzing around the White House Beehive.
Nestled on the White House South Lawn, the Kitchen Garden is home to different fruits, vegetables and herbs each growing season. The First Lady planted the White House Kitchen Garden in 2009 to initiate a national conversation around the health and wellbeing of our nation and to serve as an inspiration for schools and community groups across the country to plant gardens of their own. Now nearly five years later, the Kitchen Garden is as healthy as ever and is an example of just how easy it is to plant a garden in your backyard, school, or community space. So if you haven't already started your own garden, click here to check out the Let's Move! Gardening Guide which has all the information you need to get planting!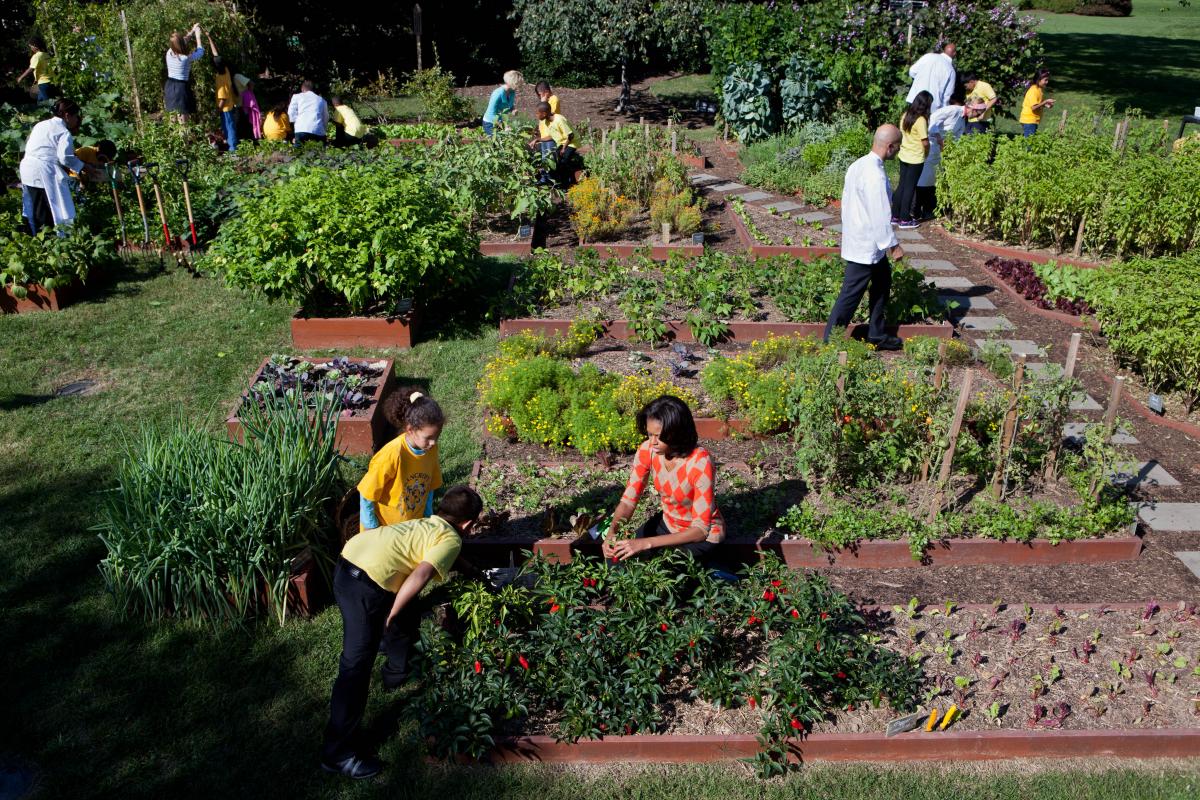 First Lady Michelle Obama and White House Chefs join children from Bancroft and Tubman Elementary Schools to harvest vegetables during the third annual White House kitchen garden fall harvest Oct. 5, 2011. Mrs. Obama planted the White House kitchen garden to help connect kids with the food they eat – an essential component of her Let's Move! initiative. (Official White House Photo by Chuck Kennedy)
If your group will be in the Washington, DC area and is interested in visiting the Kitchen Garden, click here to learn more and submit an application. Please include background information about your group and tell us why you would like to tour the White House Kitchen Garden. Tours of the Kitchen Garden will be scheduled based on availability. Representatives from the White House Visitors Office will contact successful applicants within one month of application submission.