2014 Kids' State Dinner Winners Announced!
This year marked the third annual Healthy Lunchtime Challenge, a nationwide recipe challenge issued by First Lady Michelle Obama, Epicurious, the Department of Education, and the U.S. Department of Agriculture to promote healthy eating among America's youth in support of Let's Move!. For this year's challenge, more than 1,500 recipes were submitted from talented, young chefs from all across the country.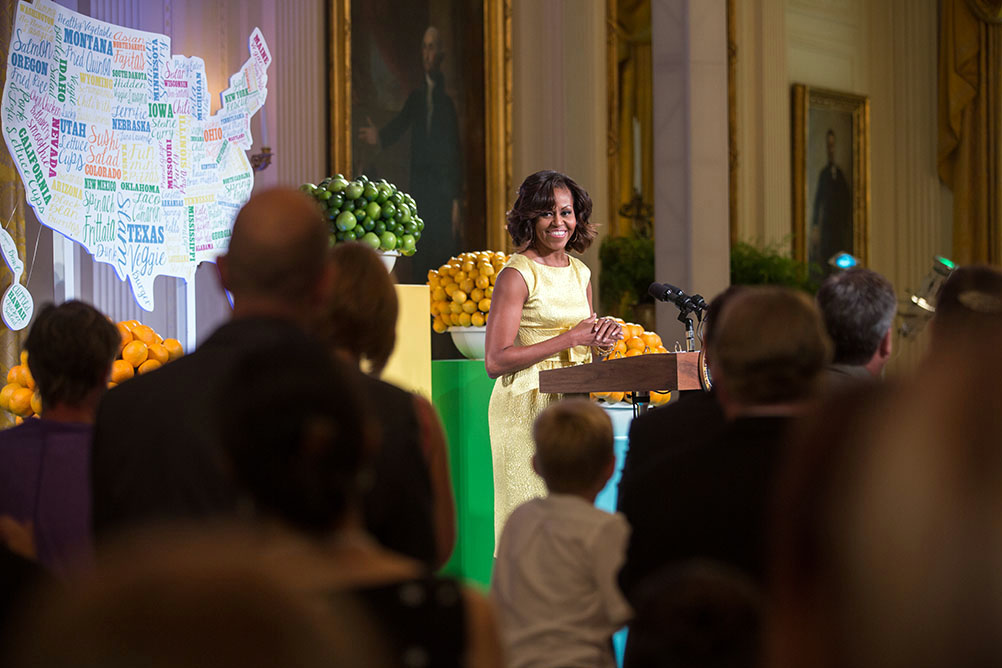 First Lady Michelle Obama delivers remarks during the Kids' State Dinner in the East Room of the White House, July 9, 2013. (Official White House Photo by Chuck Kennedy)
"I am looking forward to hosting the winners of the Healthy Lunchtime Challenge here at the White House for the third annual Kids' 'State Dinner,'" said First Lady Michelle Obama. "This event gives us the opportunity to showcase healthy creations from talented kid chefs from across our country, and I can't wait to see—and taste—this year's selections."
The judges were extremely impressed by this year's entries. The winning recipes were chosen based on USDA's MyPlate recommendations and based on the challenge criteria of being healthy, original, tasty, and affordable.
The winners represent every U.S. state, three territories, and the District of Columbia. These fifty-four children, ages 8-12, along with their parents or guardians will travel to the White House on July 18th to attend the third annual Kids' "State Dinner." During the event, the kid chefs will join the First Lady and enjoy a healthy lunch featuring a selection of the winning recipes, followed by a visit to the White House Kitchen Garden.
Winning entries feature wholesome, tasty ingredients including salmon, black beans, ground turkey, and delicious fruits and vegetables. Check out all of the winners and featured recipes, and stayed tuned to catch all the exciting action in July at this year's Kids' "State Dinner!"
LEARN MORE