Healthy Eating: Leading the Way in New York City
Last week, I had the honor and privilege of joining First Lady Michelle Obama along with other school leaders and experts for a roundtable discussion about the innovative and creative ways we are implementing the school nutrition standards.
I was so proud to tell the First Lady about how the New York City Department of Education (NYCDOE) is helping lead the way in serving healthy foods that students enjoy eating. I told the First Lady that we serve 860,000 healthy and delicious meals every day. I told her that New York City has always been a leader: reducing the sodium, fat, and cholesterol in our menu items, eliminating trans fats and artificial colors and flavors, and creating nutrition standards for vending machines and competitive foods. I told her that we encourage our students to drink water by having chilled water in "water jets" in over 900 schools and that we encourage our students to take fresh veggies from the salad bars that we have in over 1,000 schools.
I also told the First Lady that the nutrition standards in the Hungry Healthy-Free Kids Act are working and that they should not be rolled back.
New York City has made the nutrition standards work and we believe that districts throughout the country can do so as well. I would like to share some of the efforts that have made New York City so successful in the hopes they can help inspire other districts throughout the country.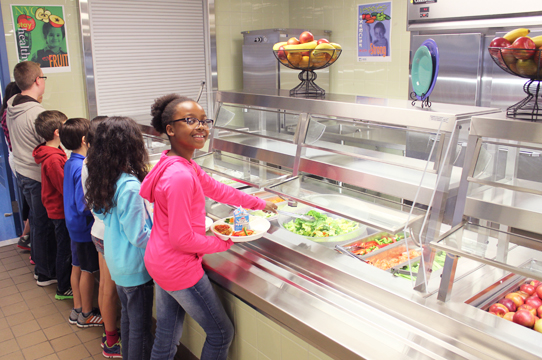 Our students love our salad bars. Photo taken at PS/IS 78 in Queens, New York.
The NYCDOE's department of SchoolFood wants as many children as possible to eat our food. That is why, for over 10 years, we have served breakfast free of charge to all students. That is also why we offer lunch at no charge for reduced-price students.
But NYCDOE's SchoolFood also wants to make sure that the meals the students eat are as healthy and delicious as they can be, particularly given our limited resources. That is why we continually introduce exciting dishes, such as: grilled and roasted chicken, whole grain pizza with low sodium sauce and cheese (it passes the NY pizza test!), organic yogurt, whole grain pastas, sweet potato wedges and savory latin style rice and beans!
We also buy food from some great American companies that are familiar to our students and their parents. They are very important partners in helping us proivde students with food they know and enjoy that also meets our nutritional standards.
NYCDOE's SchoolFood also realizes that every meal at school is a teachable moment. When children eat nutritious food, they are not only being healthy today, but they are learning good habits for the rest of their lives. That is why New York City has installed salad bars in more than 1,000 of its schools.
These salad bars are stocked with fresh veggies and dark leafy greens like romaine lettuce and spinach, as well as carrots, cucumbers and tomatoes. Our children can enjoy as much salad and as many vegetables with their meal as they like. Perhaps more importantly, they are getting used to eating healthy at a young age so that it becomes a pattern when they grow older. In addition, our students are developing a taste for fresh produce so that, when they go home, they ask their parents, grandparents, and guardians to buy the same delicious produce that they are eating in school.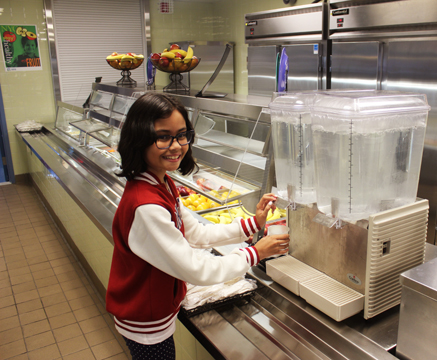 Our students love drinking New York City tap water from our water jets. Photos taken at PS/IS 78 in Queens, New York.
These salad bars are not part of the reimbursable meal, meaning that New York City does not receive federal funding for the food served in them. Nonetheless, New York City believes this cost is worthwhile because it will improve the health and welfare of our students and society.
This is the very reason that New York City supports the nutrition standards in the Healthy Hunger-Free Kids Act. We realize that the new nutrition standards may increase food costs, but we believe these increases can be offset through effective and intelligent and creative management. We also believe in solutions such as the Urban School Food Alliance, where we teamed with school food leaders in Los Angeles, Chicago, Miami, Dallas, and Orlando to form a non-profit organization where we can share best practices and leverage our purchasing power to drive quality up and costs down.
It is clear that there are many ways that school districts throughout the country can go about serving healthy food that children will love to eat. It is also clear that rolling back the nutrition standards is not the solution.