Hop Into Healthy, Swing Into Shape: The 2014 White House Easter Egg Roll
It was a beautiful day on the South Lawn yesterday as over 30,000 people visited for the 136th annual White House Easter Egg Roll. This year's theme was "Hop into Healthy, Swing into Shape," and many of the day's activities were in support of Let's Move!, providing kids and families with opportunities for fun physical activity and helpful tips on eating healthy.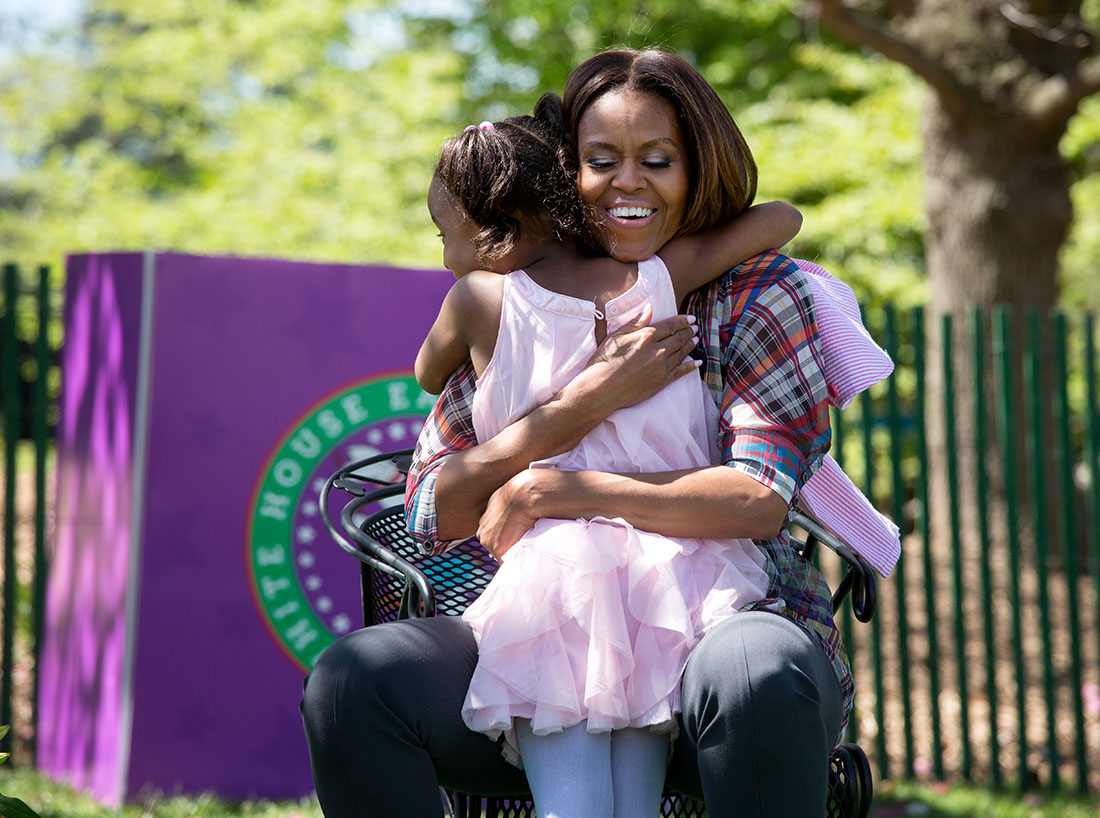 First Lady Michelle Obama hugs a little girl after reading "My Garden," by Kevin Henkes, to children during the annual Easter Egg Roll on the South Lawn of the White House, April 21, 2014. (Official White House Photo by Chuck Kennedy)
Kids and families enjoyed a wide range of activities from egg rolling and fun games in the Eggtivity Zone, to healthy cooking demos, storytelling, and great music entertainment. A mini-farmer's market with apples, oranges, and bananas added a special stop for fresh, tasty bites between activities.
"We're just thrilled that this theme is focusing on one issue that is near and dear to my heart, and it's making sure that our young people are active and healthy," Mrs. Obama said. "I want to make sure that kids know that healthy eating and being active can be fun, because what today is about is having a whole lot of fun."
President Obama and First Lady Michelle Obama joined in the fun and participated in many of the activities. After participating in the egg roll with the President, the First Lady headed to the chef stage where she joined Chef Marc Murphy from the Food Network's Chopped along with the stars from Disney Channel's JESSIE. The First Lady, Chef Murphy, and the JESSIE cast talked about the importance of eating healthy and how healthy foods make them feel good and perform at their best. They prepared some delicious and healthy snacks that are perfect for busy families, like fruit salad, Greek salad, and healthy smoothies with carrots, kale, bananas, apples, and strawberries. Find their recipes here to try them at home!
Following the chef stage, Mrs. Obama joined a group of children at the story time stage where she read the book My Garden by Kevin Henkes, a story about a mother and daughter working together in their garden. Just three weeks ago, Mrs. Obama and local students planted the White House Kitchen Garden, and everyone who attended the Easter Egg Roll had the opportunity to see what was planted and how it has grown.