Student Ambassadors Teach MyPlate on College Campuses Nationwide
Ed. Note: This blog was originally posted on USDA.gov. To view the full post, click here.
The MyPlate On Campus initiative, USDA's effort to promote healthy eating on college campuses nationwide through peer-to-peer education, launched 1 year ago. In that time, nearly 2,000 students, representing all 50 states, have joined the cause by becoming MyPlate On Campus Ambassadors. It has been exciting to watch it grow and see the creative ways that students are bringing nutrition education to life on their campus. Read below about how one group of passionate students is helping to spread the MyPlate message: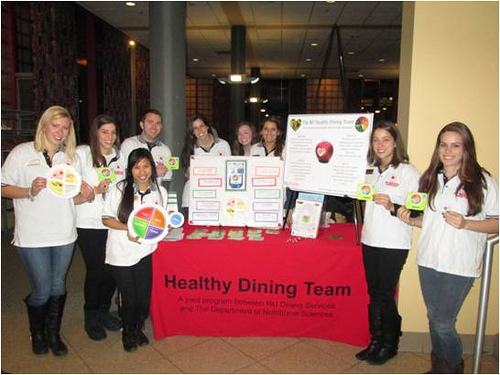 The RU Healthy Dining Team hosted a MyPlate nutrition education booth earlier this year. (Jenna Deinzer, Alexa Essenfeld, Nathalie Corres, Jesse Tannehill, Lindsay Yoakam, Rebecca Tonnessen, Taylor Palm, Mary Tursi, and Miranda Schlitt.)
By Rebecca Tonnessen and Alex Essenfeld, MyPlate On Campus Ambassadors at Rutgers University, New Jersey
As nutrition students at Rutgers University, we are all excited and passionate about being MyPlate On Campus Ambassadors. Working with dining services and the nutrition department in a joint effort to educate our peers, the RU Healthy Dining team strives to educate the Rutgers community through nutritional booths, newsletters, and outreach programs. As MyPlate Ambassadors and nutrition leaders, we integrate MyPlate into our activities. Our newsletters incorporate MyPlate tips and are distributed to our student body in the dining halls.
Our recent nutrition education booth focused on MyPlate. Educational materials were made available to the students, including MyPlate tip sheets, a life size MyPlate plate, and our own newsletters. We displayed a poster that featured healthy dining hall eating tips provided by MyPlate's 10 tips for eating healthy in the dining hall resource. Students coming in and out of the dining halls came up to the booth to participate in our featured game: MyPlate Match up. Students had to flip over MyPlate cards until they found a matching food group. We then tested the participant's nutritional knowledge by asking the player two questions about that particular food group. We all had a great time sharing and learning nutrition information with our peers. Everyone was excited about the prizes, which were MyPlate erasers.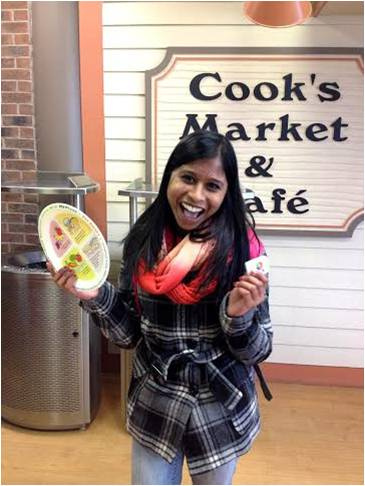 Excited Rutgers student, Rebecca Bissessar, enjoying her prizes after participating in our MyPlate game!
A challenging aspect of being a MyPlate On Campus Ambassador is getting students involved and excited about nutrition. To overcome this, we have found that social media sites are great tools to communicate and educate. We interact with our students through Twitter, Facebook, Instagram, and WordPress. We hold contests to encourage students to interact with us and eat healthier. Recently we held "Promotion Commotion" in which the more times a student interacted with one of our social media sites the more likely they were to win a prize. Students asked questions and took pictures of their healthy dining hall meals and either tagged us in the pictures or used the hashtag #ruhdt. The lucky winners received Rutgers swag bags filled with nutritious snacks. The enthusiasm of the students who participated in our contest really makes what we do a fulfilling experience.
We plan to continue using MyPlate and incorporate it into our events, newsletters, and social media sites in more creative ways in our efforts to get our students excited about nutrition. Like us on Facebook page (RU Healthy Dining Team) and follow our Twitter (@RUHDT) and Instagram (@ru_hdt) accounts to stay up-to-date on our MyPlate Ambassador adventures!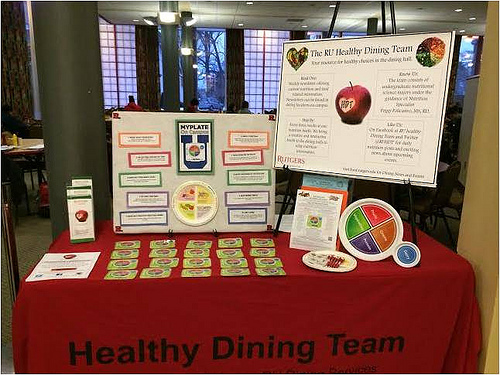 The RU Healthy Dining Team hosted a MyPlate nutrition education booth earlier this year.