You're Invited: White House Easter Egg Roll Social
Ed. note: This is cross-posted from The White House blog. See the original post here.
On Monday, April 21, 2014, the First Family will host the 136th annual White House Easter Egg Roll. This year's theme is "Hop into Healthy, Swing into Shape," and more than 30,000 people will assemble on the South Lawn to join in the fun. For our next White House Social, we are giving our followers of @LetsMove and @FLOTUS on Twitter, or @MichelleObama on Instagram, a chance to attend.
Interested in attending the White House Easter Egg Roll? Sign up for your chance to join us and learn more about the history of the White House Easter Egg Roll at WhiteHouse.gov/EasterEggRoll. All applicants must have children ages 5 to 13.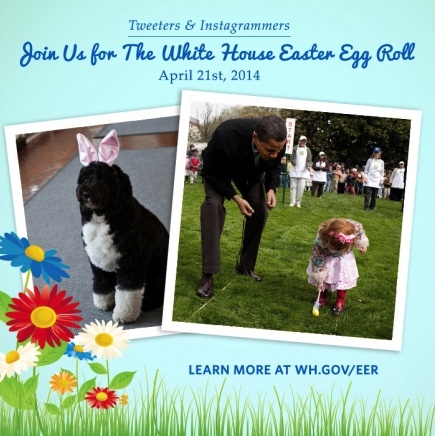 After you sign up, help spread the word! Let your followers know that you submitted your entry for the #EasterEggRoll Social.