Bringing Healthy Choices to Children in Davenport, IA
Davenport, IA, located along the Mississippi River, has a growing population of over 100,000. We have been a part of Let's Move! Cities, Towns and Counties (LMCTC) since 2010. As the City's Mayor, I am extremely proud of all of our City's initiatives to increase wellness for our residents, especially young children. Some of these initiatives include outreach to child care centers and school wellness policies.
We are implementing many exciting initiatives through LMCTC Goal I: Start Early, Start Smart, which focuses on helping early care and education program providers incorporate best practices for nutrition, physical activity and screen time into their programs. One initiative includes a mobile playground and mobile garden that bring physical activities and nutrition programs to schools and early child care centers to increase children's wellness. The mobile playground and mobile garden staff bring their expertise on-site to train both teachers and children in games and gardening activities to reduce screen time, teach children about healthy eating, and increase physical activity.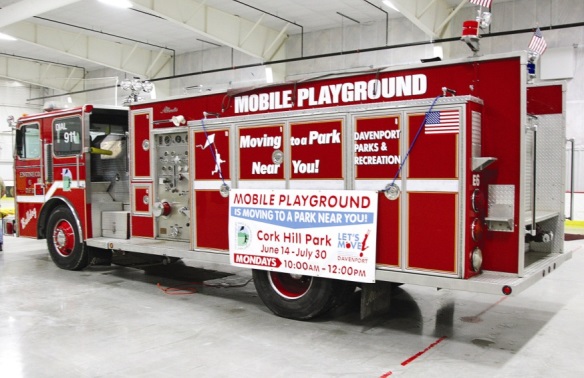 The mobile playground travels to Davenport, IA neighborhoods to encourage youth to be physically healthy.
The mobile playground is a decommissioned fire truck that travels to Davenport neighborhoods throughout the summers, helping our youth play games and sports in the City's parks. We encourage our early learning centers and home child care providers to join us in our neighborhood parks. This engagement increases their understanding of best practices to get children moving through fun new games, and eating healthy through delicious snacks.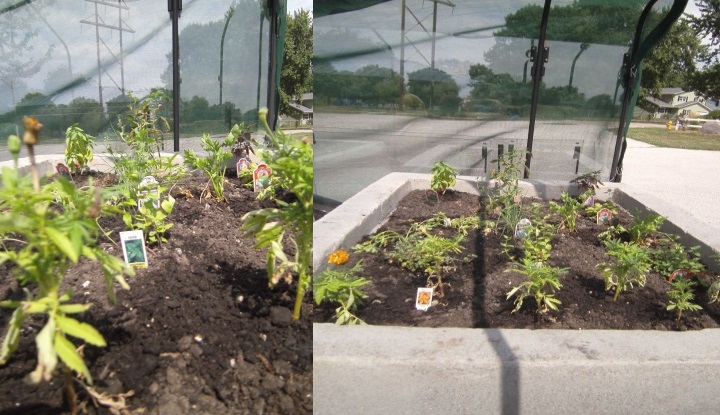 These mobile gardens are accessible to the many children in our community as they learn the importance of nutritional eating.
The mobile garden, a 20 foot trailer that holds three accessible gardening beds, educates youth and families on nutrition and gardening to make sure youth understand the importance of proper nutrition and how to grow, cook and eat their fruits and vegetables.
We also have a wonderful group that collaboratively developed a comprehensive school wellness policy. This group consists of Davenport Community Schools, Iowa State Extension, the City of Davenport, Parent Teacher Association members, parents, principals, health professionals, food service personnel, community leaders, and other health related stakeholders. Anyone that has expressed interest in improving our health policies was invited to the table.
The Davenport School Wellness policy requires schools with a federally-funded school meals program to develop and implement wellness policies addressing nutrition and physical activity.
In addition to this wellness policy, we developed a quarterly newsletter for teachers to better understand the policy and how to practice best practices outlined in the policy. One best practice is for teachers to provide students with treats that promote wellness on their birthdays, including jump ropes and hula hoops, instead of baked treats.
We are going to continue moving in Davenport, and we invite to you learn more about our success by visiting our Let's Move! Cities, Towns and Counties Community Profile Page.
Learn more about LMCTC, and how to become more involved with the initiative, here.