Transformational Changes in Schools Nationwide
As part of the fourth anniversary celebration of Let's Move!, First Lady Michelle Obama highlighted the transformational changes happening in schools across the country – from school breakfast and lunch, to snacks and physical activity. Since launching Let's Move!, the First Lady has been dedicated to ensuring that the school environment is one that supports that health of all its students.
Joined by U.S. Department of Agriculture Secretary Tom Vilsack, the First Lady announced proposed guidelines for comprehensive school wellness policies to help build healthier learning environments for students across the country. As part of the Healthy Hunger-Free Kids Act of 2010, these policies will set goals in nutrition, physical activity, and other school-based activities promoting student wellness. Additionally, the school wellness policies include a guideline on food marketing in schools, setting a standard that if an item cannot be sold or served in schools, it cannot be marketed to kids in schools.
These policies help ensure that the hard work parents are doing at home to teach their kids healthy habits will not be undone by unhealthy messages at school. This is also part of a larger effort started last fall, when the First Lady called on companies to reduce their marketing of unhealthy products to kids and increase the marketing of healthy products in order to get kids excited about eating more nutritious food. Schools should be places where students can focus on their work and not be inundated with ads for unhealthy products.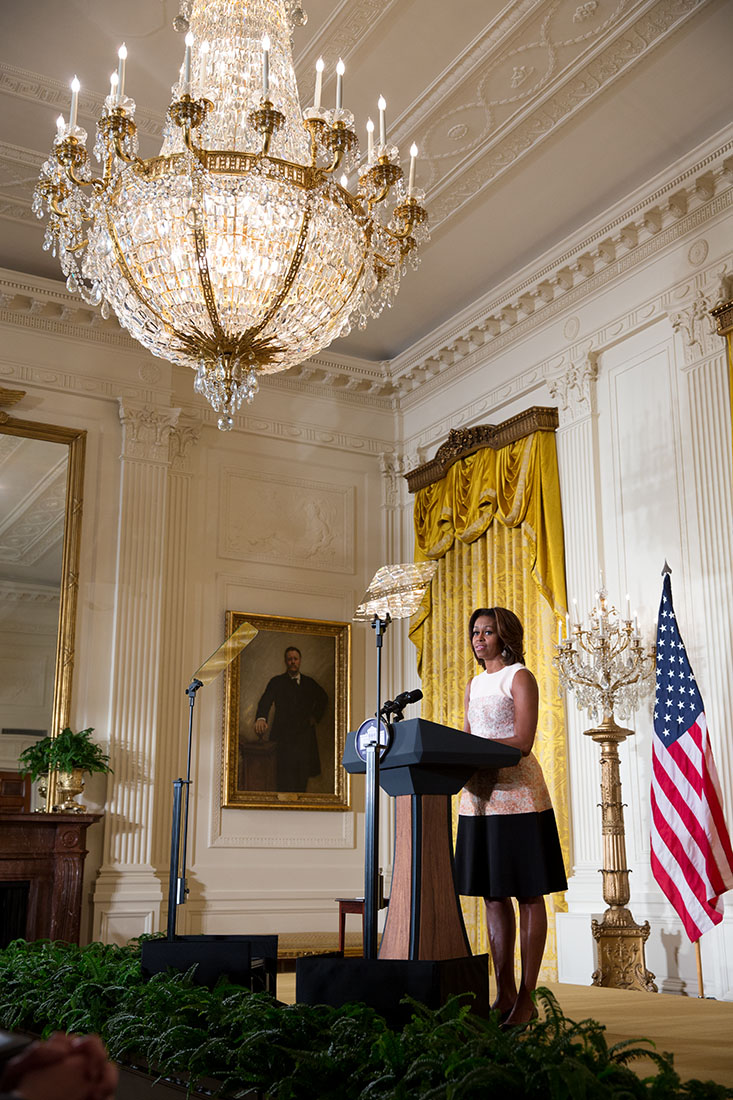 First Lady Michelle Obama delivers remarks during a "Let's Move!" school wellness event in the East Room of the White House, Feb. 25, 2014. (Official White House Photo by Lawrence Jackson)
Mrs. Obama made a second announcement about one of the most important parts of a child's day – breakfast. Through the expansion of the school breakfast program, nearly nine million kids in 22,000 schools will be able to start their day with a healthy breakfast. This is so important because we know that a nutritious breakfast affects more than just a student's health; it also has an impact on their academic performance. A recent study showed that kids who eat a healthy breakfast perform 17.5 percent better on math tests and have fewer disciplinary problems.
In addition to these policies, the First Lady highlighted the success of the school lunch program. Nearly 90 percent of schools have already implemented the new school lunch standards, and in places like Dallas, Orlando and Cincinnati, they're actually making more money – without needing to charge more – because more kids are participating in the school lunch program.
"Here in America, healthy habits are becoming the new norm. And nowhere is that more clear than in our schools, which have been a core focus of Let's Move! right from the very beginning."
With these announcements and all of the initiatives launched over the last four years, healthy school environments are becoming the new norm.
Increased physical activity in schools is becoming the new norm thanks to Let's Move! Active Schools. Since launching in February 2013, more than 6,500 schools have signed up and committed to reintegrating physical activity into the school day.
"This is critical for our kids' future, and it's also critical for the future of our country. Because healthy and well-educated kids are more likely to become healthy, well-educated adults who will build a productive workforce, and a vibrant economy for generations to come."
There is so much incredible work happening across the country to improve the school health environment, and the First Lady is calling on all schools to show her how they are moving toward this healthier new norm. Using #LetsMove on social media, share your photos of healthy school lunches, videos of fun physical activity breaks in class, or anything you're doing to help improve your local school environment.
Check out the First Lady's full remarks from this important announcement: