California Chef Shares Garden Abundance
Since arriving last spring at the Lakeside Union School District in Lakeside, CA, Chef Jim Dumars has been on a mission to incorporate fresh vegetables throughout the school lunch program. He turned the talents he used previously at restaurants, resorts and as a private chef to benefit the students in the K-8th grade Lakeside Union School District. Chef Jim joins hundreds of chefs across the country in support of Chefs Move to Schools, an initiative engaging chefs to teach kids that eating healthy foods can be fun and delicious.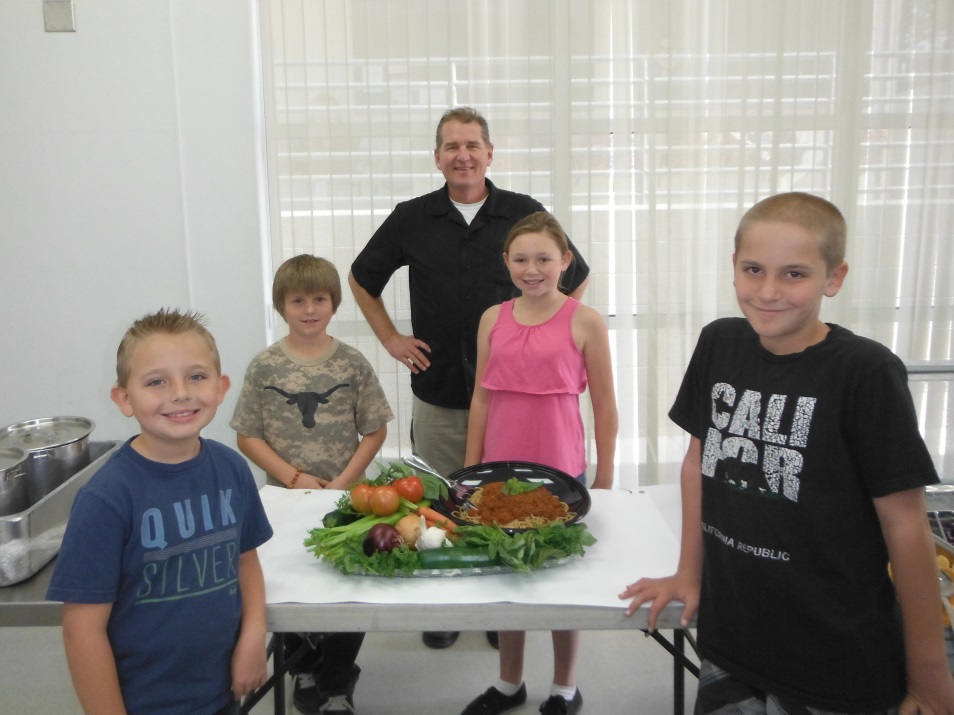 Chef Jim shows students from Lakeview Elementary all the delicious ingredients in that day's Spaghetti with Whole-Grain Pasta.(Credit: Janis Clark)
He immediately began a process of redoing the District's food offerings and replacing frozen processed products with freshly-made dishes. In his recipes, beans and cauliflower take the place of cream in sauces and soups, and sweetness is provided naturally by carrots and yams. A vision of incorporating fresh produce into every dish has led to some innovative uses (as well as some tasty meals)! Examples of his recipes include:
Chicken Pot Pie and Potato/Cheese Soup (fresh cauliflower used as part of the cream base)
Sloppy Joe and Tomato Soup (fresh carrots, pureed pinto beans)
Spaghetti (fresh zucchini, carrots and herbs)
Macaroni and Cheese (yams, carrots, cauliflower complementing the cheese in the sauce)
As a great bonus, Chef Dumars has reduced sodium as much as 40% due to the innovative ingredients he uses in these meals. To learn more about Chefs Move to Schools, click here.