Minnesota is Transforming Child Care Centers Statewide!
Minnesota has a long history of working with child care providers to encourage healthy eating and physical activity. Recently, nearly 1,700 family child care providers in Minnesota took part in a Team Nutrition Let's Move! Child Care Initiative designed to help them set and meet healthy meal patterns. Each provider completed a Team Nutrition Let's Move! Child Care Quiz on their family care home's health and nutrition practices. The Minnesota Department of Education partnered with their eight family day care home sponsor organizations to promote the Initiative.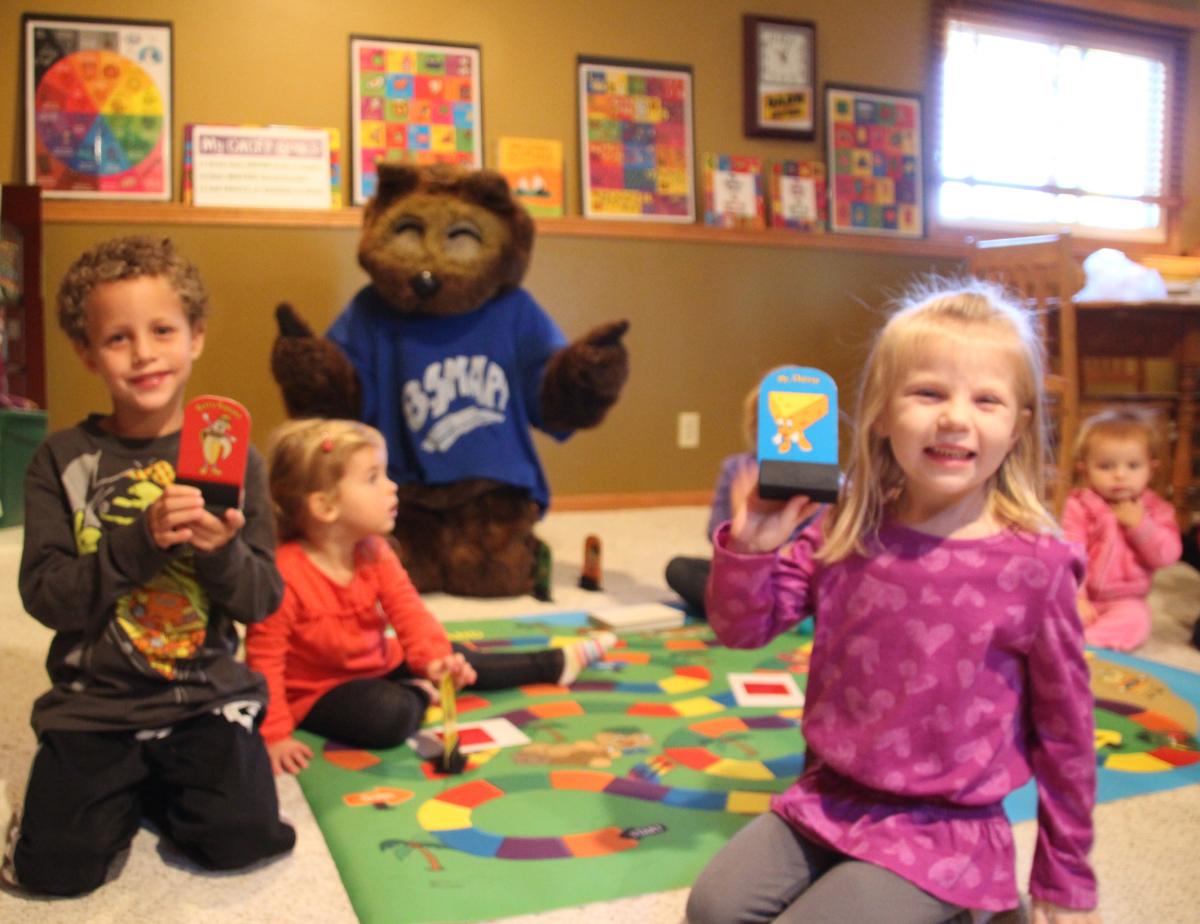 Brooklyn Park kids enjoy a visit from B. Smart Bear who presented them with the Nutrition Island Game. (Photo Credit: Laura Davis, Brooklyn Park Child Care-Minnesota)
The Statewide Health Improvement Program (SHIP) encourages healthier eating through programs such as Learning about Nutrition through Activities (LANA), which is designed to help young children learn to taste, eat, and enjoy more fruits and vegetables to promote good health. LANA has been highly successful and has been enthusiastically embraced by both providers and children.
Holly Fick with Kids Will Be Kids Child Care in Hastings, Minnesota, found that LANA offers many teachable moments. "One thing I love to do is have the kids come with me to my dad's farm (behind my house) and SEE how green beans, corn, and peas are grown and picked. They love it! We are able to run through the 'big sprinkler' (irrigator) in the summer. They even ask me why we can't do it in the winter!"
Holly has also found that the parents appreciate it, too. "As parents, I think it is great to have the kids try new foods while at daycare since we all know kids and parents have a different relationship than with their care provider," says Jacki, a parent of twins. "While my kids would have balked at even the thought of trying something new at home, at daycare it was more of a fun challenge. This program is wonderful and not only educational for the kids but for the parents as well. My kids come home and share what they have learned and even use their knowledge when out at the grocery store!"
Approximately 200 nutrition and physical activity-related incentives were given to providers for incorporating nutrition training and activities as part of their child care programming. The largest sponsor organization gave out certificates of achievement to all providers who participated. Provider Laura Davis welcomed a visit from B. Smart Bear as children engaged in activities using a large size floor mat and big hand-sized game tokens. "The children were very surprised at the size of the game," she said. "The kids laughed when I announced their silly names as, "Peanut Pete, Betty Banana, Mr. Cheese, Broccoli Bob and Tommy Toast! They had great fun crawling around the big board and matching up the colorful game pieces."
For more information on Minnesota's Team Nutrition initiative, click here. For more information about LANA, click here.