Teaming up to Capitalize on Natural Beauty: Knoxville and Knox County, TN
We're moving in Knoxville, Tennessee! Located in the foothills of the Great Smoky Mountains, at the confluence of three major rivers and with gorgeous natural landmarks, it's no wonder the favorite pastime of our 432,000 residents is outdoor recreation! We have made physical activity a priority in our community. Together, the City of Knoxville and Knox County governments are collaborating on Let's Move! Cities, Towns and Counties (LMCTC) efforts with great success!
We're especially excited about the progress we've made on LMCTC Goal V: Active Kids at Play, which promotes and develops policies and strategies to increase physical activity and play in Knoxville and Knox County! We worked with Legacy Parks to open the Outdoor Knoxville Adventure Center, a downtown recreation hub located on a 16-mile system of connected greenways adjacent to the Tennessee River. Here, outdoor enthusiasts can rent bicycles, paddleboards, and kayaks. This center is tied to the 1,000-acre Urban Wilderness Corridor across the Tennessee River, which connects 10 parks, four historic Civil War sites, more than 40 miles of recreation trails, Ijams Nature Center and unparalleled natural features.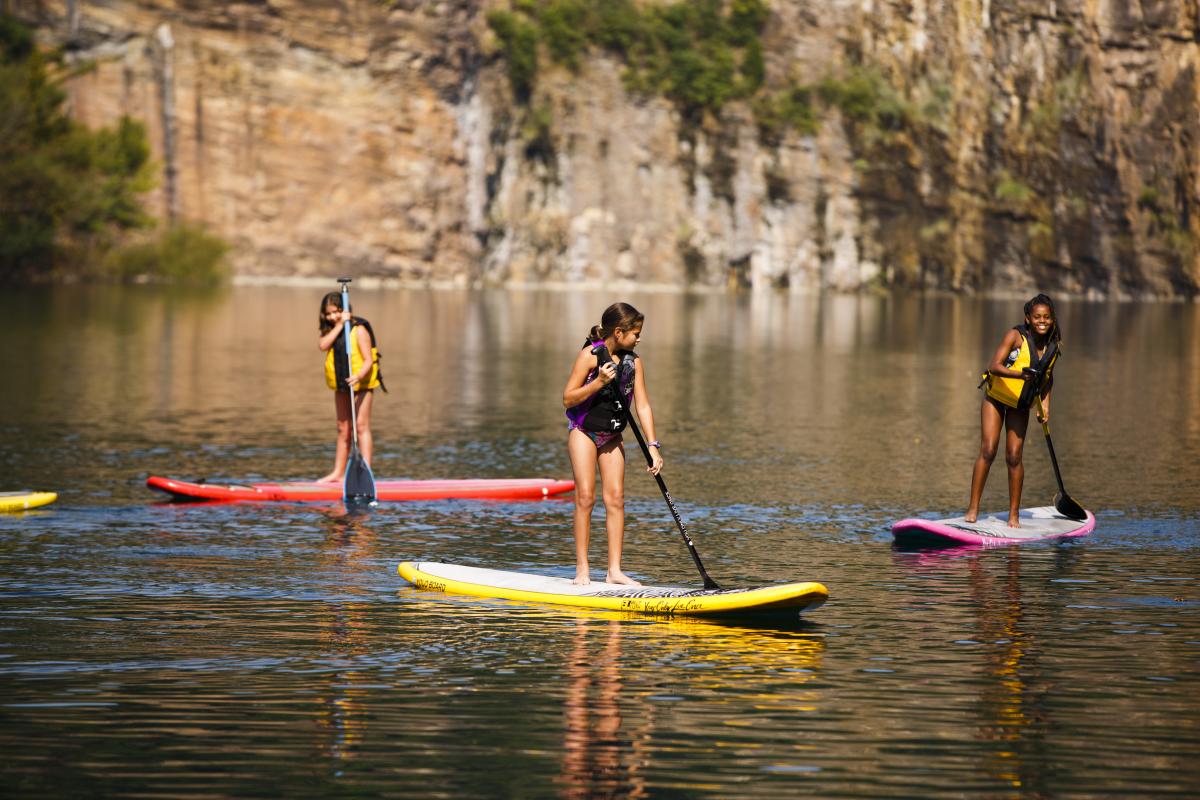 Girls in the afterschool program paddleboard at Fort Dickerson Quarry through the Outdoor Knoxville Adventure Center.
We've also worked with Knox County Schools and the Knox County Health Department to promote active transportation. We're particularly proud of the "Walking School Bus" program that our Safe Routes to Schools committee created. Parents, police officers, transportation experts and teachers alike work together to create programs in which adults escort children to school on foot, rather than commuting with vehicles.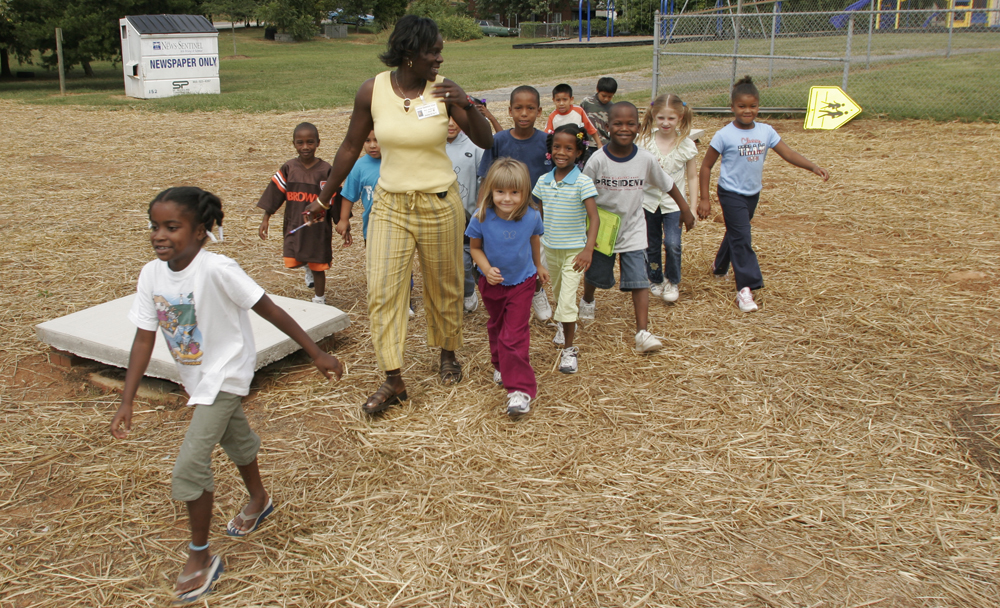 The Knox County Health Department, who leads the Safe Routes to Schools Committee in Knoxville, partnered with Knox County Schools and the Knoxville Police Department to create the "Walking School Bus" program in the Lonsdale community for youth to get to Lonsdale Elementary.
And, the Knoxville Area Coalition on Childhood Obesity, the Knoxville and Knox County governments and the University of Tennessee have implemented a program to give lessons on riding bicycles to children in the City recreation centers and other local afterschool programs. City recreation officials and University of Tennessee student volunteers take the children to tour various greenways in town.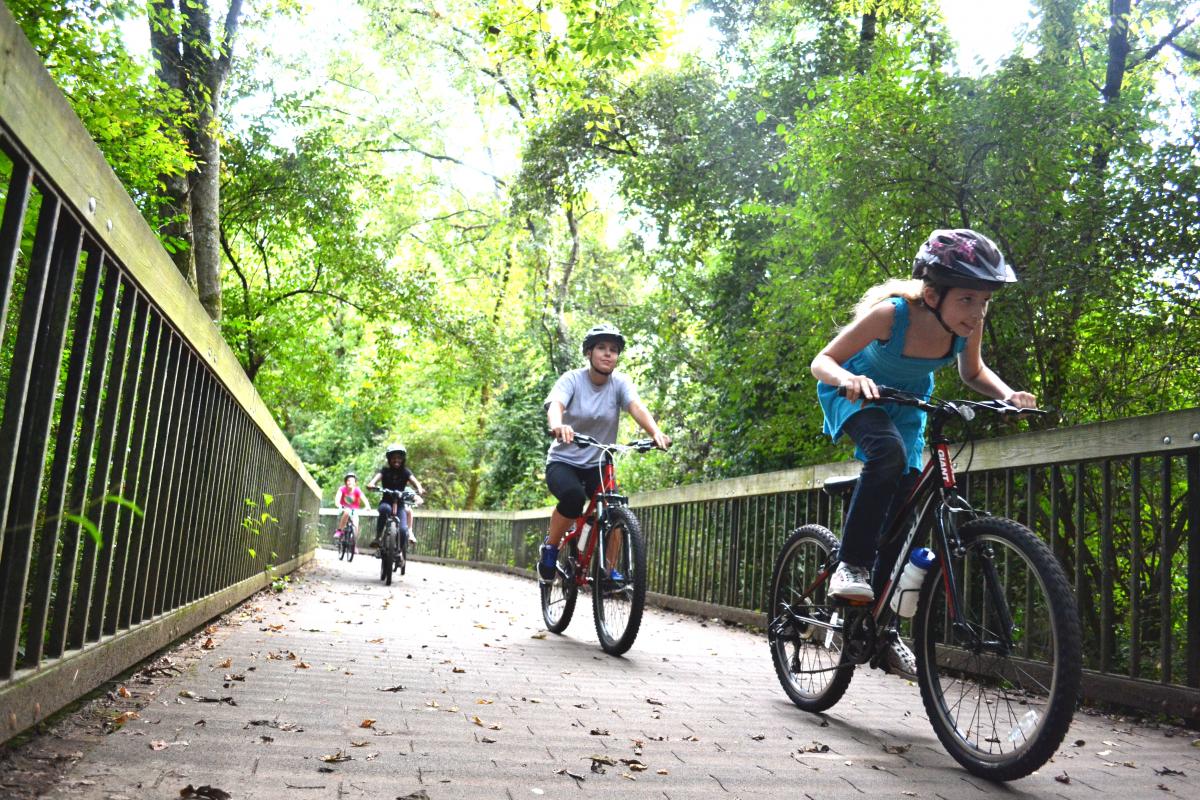 Kids ride their bikes on the City of Knoxville's Third Creek Greenway, one of over 130 miles of trails in the Knoxville/Knox County greenway system.
Our work with LMCTC has solidified and strengthened our community partnerships and helped us work more productively, particularly by honing the focus of our programs and pulling more partners together. The initiative galvanized pride in our communities as we achieve national recognition, together.
We're looking forward to furthering the health of Knox County and Knoxville through our work in LMCTC!
Learn more about LMCTC, and how to become more involved with the initiative, here.