GirlTrek Sparks a New Health Movement in Church Basements Across America
Let's Move! Faith and Communities was launched to help faith-based and neighborhood organizations promote healthy living for children and communities. GirlTrek, a nonprofit organization that inspires and supports African-American women and girls to live their healthiest, most fulfilled lives - simply by walking - is one of the organizations that works to address the problems that lead to childhood obesity.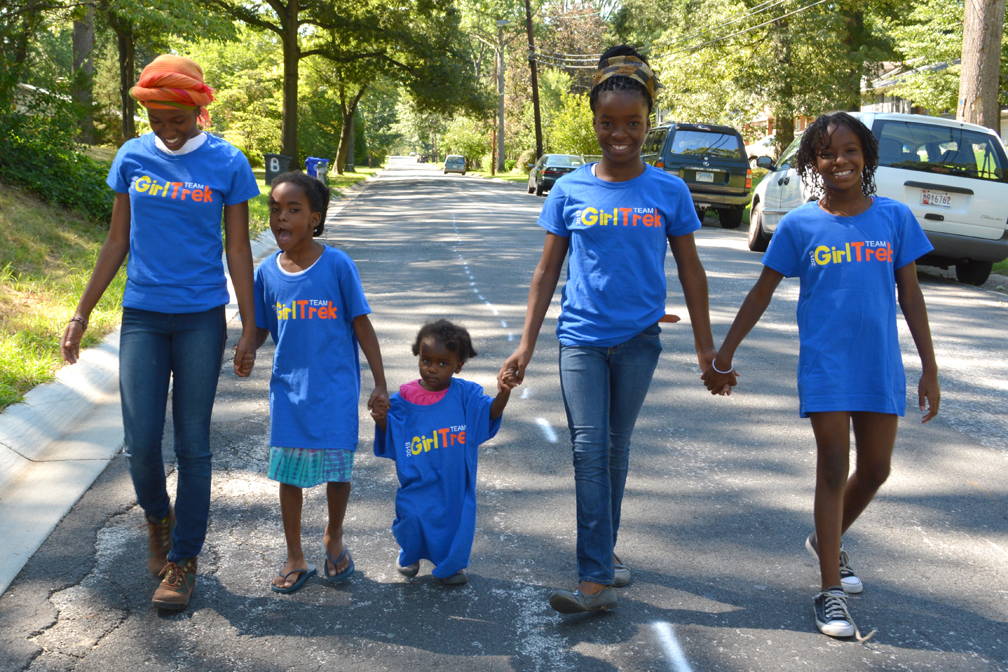 Girls walk in their Washington, DC neighborhood as part of GirlTrek's national health movement . Photo credit: Alyscia Cunningham
Right now, thousands of African-American women and girls across the country are forming walking teams, lacing up their sneakers and gearing up for a series of heart pumping "treks" through their neighborhoods. "Prayer Treks" give women an opportunity to jumpstart more active lives while practicing random acts of kindness and learning healthier habits for eating, stress management and fitness.
We often think of women like Harriet Tubman and the women who walked in the Montgomery Boycotts. When women walk, things change. We also look to the strategies of legendary organizers like Ella Baker and Fannie Lou Hamer who led the Civil Rights Movement from church basements. So last year, GirlTrek launched its first faith-based initiative, the 9-Day Prayer Trek.
Last October, 150 church leaders across the country registered walking teams with GirlTrek. After registering, the church teams competed in a fun, head-to-head competition to recruit new walkers. Once the national prayer trek began, team members walked in their neighborhoods. They monitored their walking pace and heart rates – many for the first time. They greeted neighbors along the way, walked to local grocery stores to try healthy recipes, and trekked to local schools. They even asked senior citizens to walk with them on day 7, to get advice and learn practical health traditions. On the final day of the trek, DuPage African Methodist Episcopal Church in Lisle, Illinois claimed victory with 34 women completing 100% of the walking challenges!
We caught up with the organizer at DuPage AME this month, and she said, "The men are jealous and looking for their own movement to rally around. Our church's health ministry has been inactive for a while and this win has helped get us back on track."
Last March, GirlTrek rallied 15,000 walkers to participate in a "moving tribute" to Harriet Tubman on the centennial of her death and mobilized walkers for the 50th Anniversary of the March on Washington.
Right now, trekkers are walking in Detroit, Chicago, Birmingham, Oakland and cities across the country even though GirlTrek's official walking season doesn't even begin until March 1st! In addition to the prayer treks, GirlTrek's official season includes neighborhood kickoff events in the spring, a "Summer Trek Series" in partnership with the National Park Service, and walking campaigns in the fall that center on gratitude and service.
All women and girls of all faiths are welcome to participate! For more information on upcoming national prayer treks, and to get involved, click here. To learn more about Let's Move! Faith and Communities, click here.