Creating Partnerships to Prevent Childhood Obesity Among Native American and Alaska Native Youth
Tuesday afternoon, leaders from the Indian Health Service (IHS) and the Notah Begay III Foundation (NB3F) met at the White House to sign a Memorandum of Understanding to formalize a partnership in support of Let's Move! in Indian Country. The two organizations will jointly work to curb and prevent childhood obesity in American Indian and Alaska Native communities.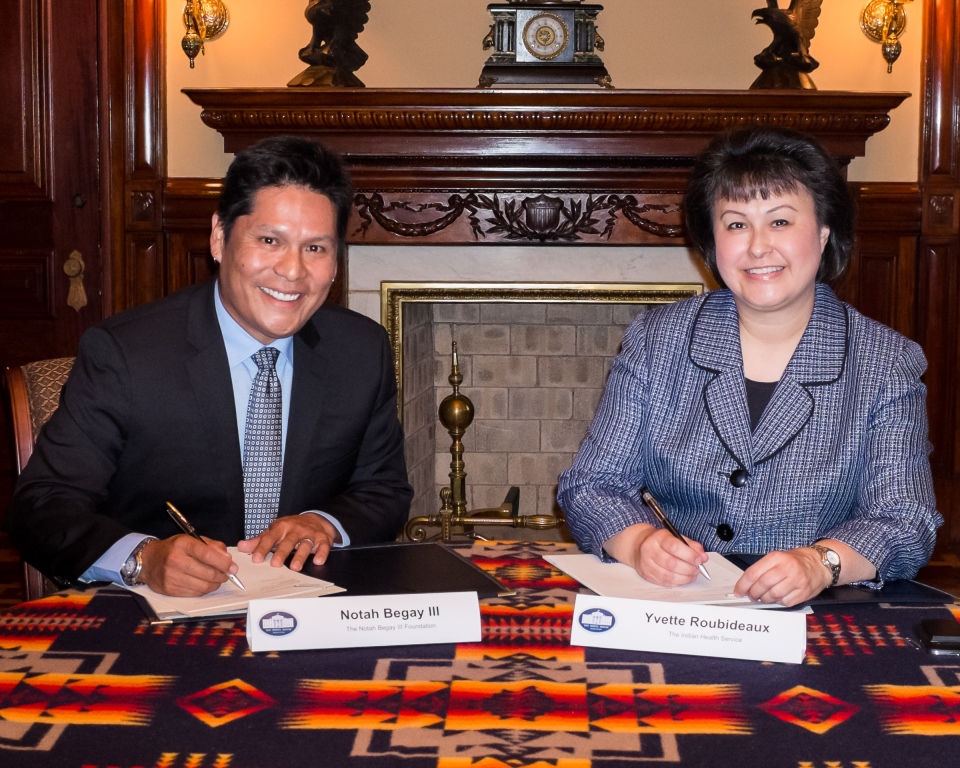 Notah Begay III and Acting IHS Director Dr. Yvette Roubideaux sign a Memorandum of Understanding at the White House.
Let's Move! in Indian Country (LMIC), is a part of the First Lady's Let's Move! initiative, which aims to help kids grow up healthy and able to achieve their dreams. LMIC was established to engage tribal leaders and community members to provide a healthier environment for children in their communities.
"Today's partnership is an important step towards helping Native American youth lead healthier lives," said Sam Kass, Let's Move! Executive Director. "With LMIC, we've seen tribal leaders engage their communities by creating food policy councils and reintroducing sports like lacrosse into schools, but we know there is more work to be done to ensure all our children have the healthy futures they deserve."
Today, nearly one in three children in the US is overweight or obese. The numbers for Native American and Alaska Native youth are even higher. Additionally, obesity related diseases such as diabetes and cardiovascular disease are among the leading causes of death within these communities.
"Our new partnership with the NB3F gives us an opportunity to identify and share best practices from all of our prevention efforts," said Dr. Yvette Roubideaux, IHS Acting Director. "We are excited to partner with them as they establish a new national center focused on these issues."