A "Win-Win" for Child Care Providers Participating in Let's Move! and the Child and Adult Care Food Program (CACFP)
As a family child care owner for over 25 years in Philadelphia, PA, Anna Mae Guille provides care for up to 6 kids at any given time. She has been a long-time provider of the Child and Adult Care Food Program (CACFP) and participates in the Let's Move! Child Care (LMCC) initiative.
Anna Mae has had success with both programs. She offers the following tips to help combat childhood obesity for kids in your care:
Sign-up for Let's Move! Child Care. Joining Let's Move! Child Care is easy. You can sign up on the website and download free materials and resources to help get your kids moving and eating healthy. For example, Anna Mae says participating in LMCC gave her ideas to engage her kids in physical activity. "My kids are now learning yoga and gardening, getting 60 to 120 minutes of outdoor play most days, and I have a child-size exercise bike and treadmill for rainy days." Anna Mae also uses the Let's Move! Calendar as an easy way for her kids to track their physical activity.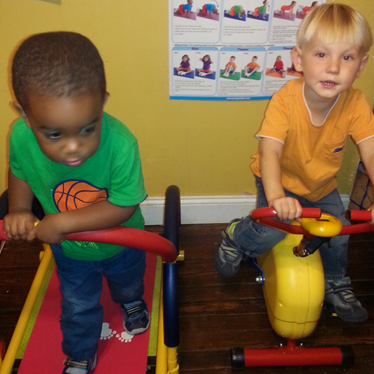 Children exercise on the child-size exercise bike and treadmill on rainy days.
Become a Child and Adult Care Food Program provider. Child and Adult Care Food Program providers provide nutritious meals and snacks to kids as part of their care. "CACFP provides an easy guideline for me to prepare healthy meals," says Anna Mae. "I can use the guide that CACFP provides or I can create my own meals from the examples knowing that I will still be providing healthy meals for my kids." Find out if you are eligible to become a CACFP provider through your state agency contact here: CACFP State Contact.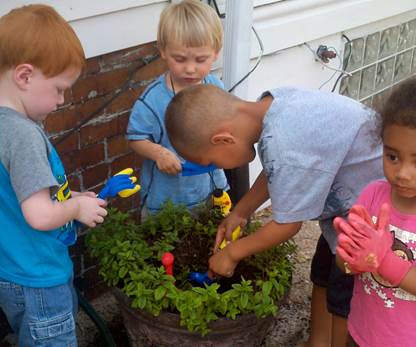 Children planting herbs for their edible planter outside of Fun Time Child Care.
Already a CACFP provider? Connect with your CACFP sponsor for more resources. CACFP sponsors can provide education, support and additional resources to CACFP providers. Anna Mae received a CACFP wellness mini grant from her state with the help of her CACFP Sponsor. Anna Mae has used the grant to continue her efforts to improve nutrition and increase the physical activity of kids in her care. Her efforts support the goals of LMCC.