Honoring Our Nation's Veterans
From everyone at Let's Move!, we want to thank and honor all of our nation's veterans who have dedicated their lives serving and defending our country. We are so grateful for your service and sacrifice.
In April 2011, First Lady Michelle Obama and Dr. Jill Biden launched their Joining Forces initiative to mobilize all sectors of society to give our service members and their families the opportunities and support they have earned.
As we honor our nation's veterans today, here are five ways you can thank a veteran.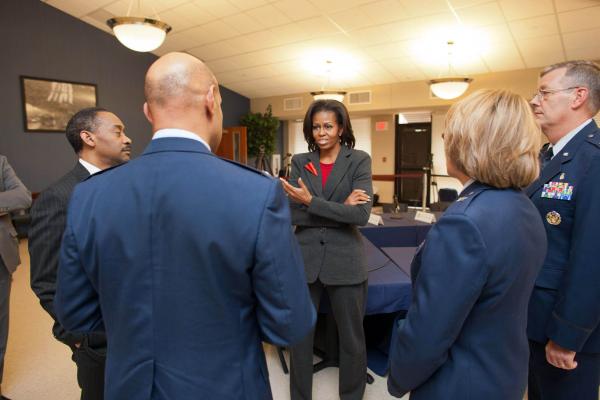 First Lady Michelle Obama receives a briefing on the Air Force's healthy eating efforts while visiting Little Rock Air Force Base, Little Rock, Ark., during a tour celebrating the second anniversary of Let's Move!, Feb. 9, 2012. (Official White House Photo by Chuck Kennedy)
Interested in learning ways to support veterans, service members, and military families? Visit www.joiningforces.gov to learn more and get involved in First Lady Michelle Obama and Dr. Jill Biden's Joining Forces initiative to take action to service America's military families.
Stay connected with Joining Forces by:
Signing up for email updates: obamawhitehouse.archives.gov/joiningforces/stay-connected
Following Joining Forces on Twitter: @JoiningForces
Liking Joining Forces on Facebook: www.facebook.com/JoiningForces