Taste "Tests" at School Introduce Kids to Healthy Choices
Ed. Note: This blog was originally posted on www.usda.gov. To view the full post, click here.
I don't know how many times I've told my children, "Go on, give it a try," or, "Try it, you might like it." Tired as those two phrases might be, they're true. How do you know if you like something if you've never tried it? And when it comes to leafy green vegetables and third graders, the truth is, many have never tried things like kale, chard or collard greens.
That's changing as more and more schools hand out a different kind of test. "Taste tests" give children an opportunity to try new, healthy foods and, equally important, they give schools good information about how to introduce healthy, new foods on the school menu. Say for example a school would like to serve butternut squash. Are the kids more likely to eat it when it is pureed or baked?
At Clinton Elementary in Poughkeepsie, NY, Food Service Director Alan Muhlnickel found out with a taste test. At a school open house on a recent Thursday night, Muhlnickel invited parents and students to sample broccoli gratin, roasted root vegetables, carrot and butternut squash puree, Tuscan kale and white bean ragout, and beet hummus.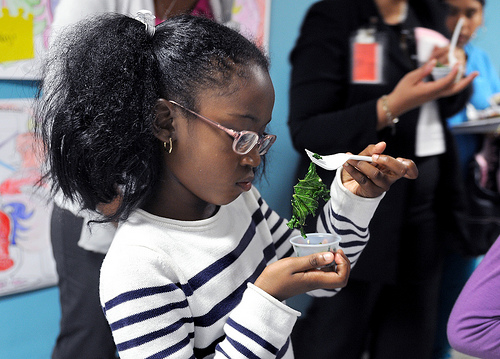 Dime Rosser, 7, a student at Clinton Elementary School, takes a look at kale. Photo courtesy of Spencer Ainsley, Poughkeepsie Journal.
The taste test was part of a broader initiative to bring more local and regional foods into the school cafeteria via the Poughkeepsie City Farm to School Program, a USDA Farm to School Grant recipient, so all of the items sampled that night were from local farms.
Pig-tailed and enthusiastic, nine year old Da'nasha Reeves thought the vegetables were "fantastic." At her side, Alejandro Reeves called them, "the best food we have ever tasted." As for other students, according to the Poughkeepsie Journal, Project Manager Sarah Brannen reported that "the kale and roasted vegetables were hits with the kids. The beet hummus was hit-or-miss. Some liked it; others didn't. The squash was somewhere in the middle."
There's usually a little wave of anxiety when a math test gets handed out. But when the test involves tasting different heirloom apples, describing the subtle variance between three varieties of strawberries, or discovering that butternut squash pureed with carrots is sweet and delicious, well, kids are lining up for those tests and passing with flying colors.
I love the thought of a take home test on this one.
Editor's Note: USDA is pleased to celebrate October as National Farm to School Month. Look for profiles of USDA Farm to School Grant recipients, and much more, throughout the month. To receive information and updates about USDA's Farm to School Program, please sign up for our Farm to School E-letter.