Nationwide Census on Farm to School Activities Shows Promising Results
Ed. Note: This blog was originally posted on www.usda.gov. To view the full post, click here.
When students have experiences such as tending a school garden or visiting a farm they'll be more likely to make healthy choices in the cafeteria. And when schools invest their food dollars in their local communities, all of agriculture benefits, including local farmers, ranchers, fishermen, food processors and manufacturers.
Good news: these healthy habits are taking root all across the country.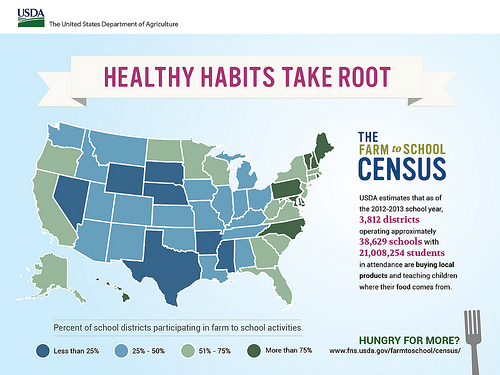 USDA released today results from a nationwide Census of farm to school activities. We found that 43 percent of all public school districts have an existing farm to school program in place. Another 13 percent of school districts surveyed are committed to launching a farm to school program in the near future. With purchasing local food as a primary farm to school activity, in school year 2011-2012, schools purchased and served over $350 million in local food.
And there's a farm to school program flourishing in every single state in the nation. Here's a sample of what we heard from school districts across the country:
"We have successfully added local beef to our menu on a monthly basis. Each month we make 800 burgers in-house with beef from a ranch that is less than 30 miles away. We live in a ranch community and the kids respond really well when they know where their beef is coming from. We are all very proud!" – Livingston School Districts 4 & 1 Livingston, MT
"We're processing local roma tomatoes at our summer feeding sites for later use in the school meal program as, for example, marinara sauce on ravioli." – Hopkins Public Schools, MN
"Local farmers help us develop recipes to use in the kitchens. We've been buying local for years and it just keeps getting better and better!" – South Jefferson Central School, NY
"We purchase freshly ground, whole grain flour for use in school made rolls and other grain items. This wheat is grown 3 miles from the schools; a local business was created thanks to our farm to school program!"
"Connecting with a local farmers market has allowed us to bring fresh, local produce into our operation." – Chesapeake Public Schools, VA
"We do 17 weeks of local produce every fall." – Kirkwood Schools, MO"Our students are always happy to see local farmers come to our school." – STAR School, AZ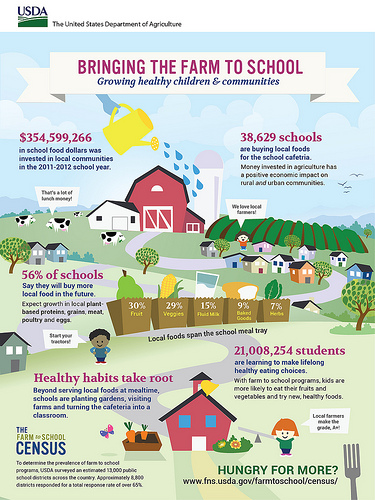 How do the schools in YOUR community bring the farm to school? Please make sure your district is counted by accessing the Census results online. USDA will be accepting additional submissions to the USDA Farm to School Census through November 30, 2013.
Editor's Note: To receive information and updates about USDA's Farm to School Program, please sign up for our Farm to School E-letter.