Cheney Public Schools Puts USDA Planning Grant to Work
Ed. Note: This blog was originally posted on www.usda.gov. To view the full post, click here.
Cheney Public Schools (CPS) is a 7-school district in rural eastern Washington State. Of the 4,135 students who attend CPS, more than 2,000 are eligible for free and reduced price school lunch, and more than 30 percent are obese. Several years ago, realizing the need to improve child nutrition, the district began to take some modest steps to that end, including initiating a scratch cooking program and participating in a regional childhood obesity prevention initiative.
Upon receiving a USDA Farm to School Planning Grant in November 2012, CPS developed an eight-member team, comprised of school district officials and community partners, to lead their efforts. The group, which meets every four to six weeks, has done extensive research to determine the most effective path forward and has leveraged relationships with a range of partners to accomplish a great deal in a short period of time.
In just the first half of the grant period, Cheney initiated conversations with two regional produce distributors who have indicated that they are able to supply the district with Washington-grown fruits and vegetables, and a commodity retailer who can offer CPS Washington-grown lentils. Through these relationships, they were able to launch a Harvest of the Month Program and begin offering local products on their lunch line daily.
To complement these changes in the cafeteria, CPS has also established a robust farm to school curriculum that includes field trips to a local farm; a Harvest of the Month taste test program with a supplementary parent education piece; a planned Your State on Your Plate lunch event that will offer outreach to students, parents, community leaders and the media; a Chefs in School Food Science program at the middle schools; and integration of nutrition and agricultural reading materials into the K-12 core.
The district works closely with the City of Cheney and its Let's Move Cheney Coalition to partner on a number of initiatives that promote health and nutrition in their community. They have also enlisted the help of the Washington State University Extension, the Spokane Conservation District, and the Washington Sustainable Food and Farming Network to help with various aspects of their project.
At USDA our goal is to create more Cheneys: more districts that have the resources, confidence, energy, and creative ideas to bring their communities together, enrich the bodies and minds of their students, and support the vital agricultural enterprises in their region.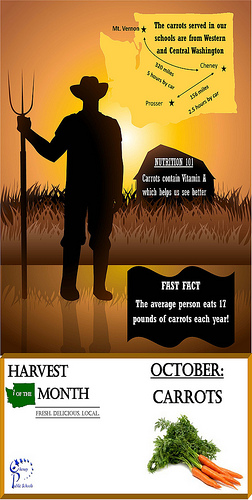 Editor's Note: The USDA Farm to School website offers resources on how to start a farm to school program in your area. To receive information and updates about USDA's Farm to School Program, please sign up for our Farm to School E-letter.