Bringing Fresh, Locally Grown Produce to Rhode Island Students
Last year, our school district participated in an Adopt a Farm Project to highlight the use of local produce on school lunch menus throughout the state of Rhode Island. Pezza Farm in Johnston, RI planted 10 acres of land that yielded 8,000 pounds of produce, while the school district's central kitchen developed new recipes to integrate the harvest into school menus.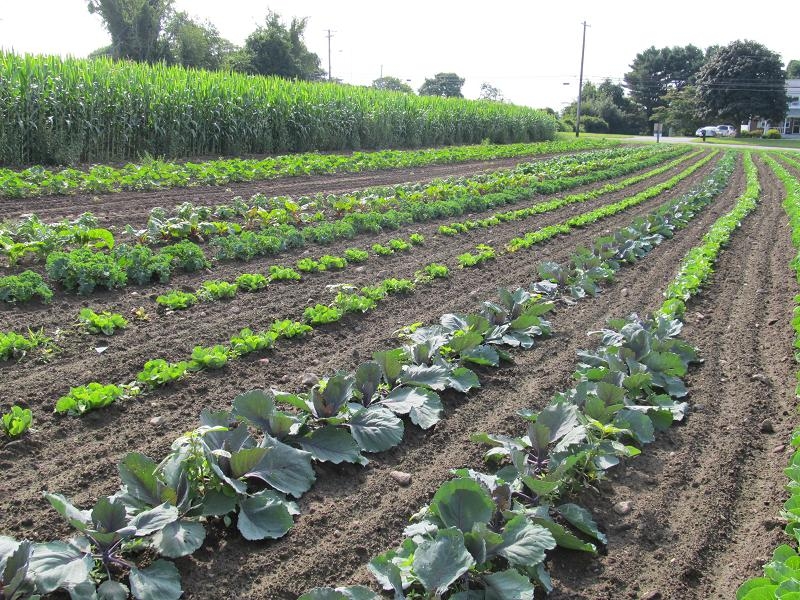 Broccoli, tomatoes, zucchini, romaine, peppers, and purple cauliflower are some of the crops planted.
Students have seen fresh offerings on their lunch trays including escarole and beans, veggie chili, romaine salads, steamed purple and while cauliflower, and three bean salad.
Elementary school classes from Providence have visited Pezza Farm for a picnic lunch, hayride and tour where they see the vegetables being grown for their meals. Before visiting the farm, a Farm to School Coordinator for Farm Fresh RI comes to the classroom and gives a lesson about RI agriculture, including the environmental and economic benefits of farms in the community. Students taste and learn about some of the produce they'll be seeing at the farm. Broccoli, tomatoes, zucchini, and peppers are passed around to examine and discuss.
Using a map showing more than 1,400 farms across Rhode Island, students discuss the types of fruits and vegetables grown in their state and examples of seasonal produce.
This new initiative is a great way for students to learn about locally grown produce that are appearing in their school lunches. It's a great opportunity to support local farmers and to introduce more vegetables to students.
Two favorite recipes students love, made from produce grown at the farm follow:
Tuscan White Bean Salad for 50/ 4 oz servings
Ingredients:
Cannellini Beans drained 12 lbs. 8 oz
Local Green Peppers Chopped 1 cup = 1/2 Tablespoon
Local Red Peppers Chopped 1 cup = 1/2 Tablespoon
Red Onion 1 1/8 cups + 1 Tablespoon
Black Olives sliced and drained 2 1/4 Cups
Garlic, Granulated 2 Tablespoons + 2 Teaspoons
Ground Basil 1/2 cup
Ground Rosemary 1/3 Cup
Lemon Juice 1 2/3 Cups + 1 Tablespoon
Canola/Olive Oil Blend 3/4 Cups + 1 Tablespoon
Rice Vinegar 3/4 Cup + 1 1/2 Tablespoons
Fresh Ground Black Pepper 2 Tablespoons + 2 Teaspoons
Method: Combine all ingredients in a bowl and mix. Hold at an internal temperature of 40 degrees or below for service.
Mexican Zucchini for 75, 1/2 Cup servings
Ingredients:
Local Fresh Zucchini Diced 7 lbs + 13 oz
Yellow Onion Diced 3 lbs + 14 1/2 oz
Salsa 3 lbs + 14 1/2 oz
Frozen Corn 3 lbs + 14 1/2 oz
Chilies Diced Canned Drained 1 lb + 15 1/4 oz
Grated Parmesan Cheese 1/3 cup + 6 1/2 teaspoons
Method: Combine all vegetables, salsa, and chilies and roast at 350 degrees for 10 minutes or until the vegetables are tender. Sprinkle with the parmesan cheese and serve!
See other blog posts in this series: