Our Moving is Our Learning: The Power of Kinesthetic Learning and Programming in Children's Museums
Ed. Note: This blog was originally posted on www.imls.gov. To view the full post, click here. This blog post is made in conjunction with September's National Childhood Obesity Awareness Month.
My father, a lifelong elementary school educator, used to say of children and learning, "Our work is our play." With 56,500 square feet to discover, explore, and investigate, guests at Miami Children's Museum have a lot of space to cover. Our entire building naturally invites guests to be active and move; to play. Our museum provides children with an outlet to express themselves in creative ways through fun and interactive programming that encourages movement and an active lifestyle. We're always looking for ways to turn the guest experience from a passive one to an active one.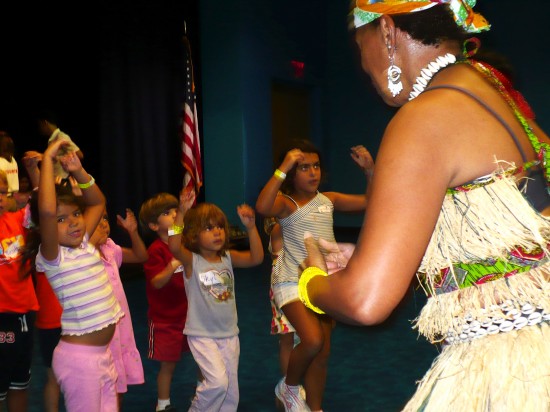 Interactive Dance Performances take place regularly to get children moving and learning about different cultures from around the world.
Let's Move! Month provides the perfect opportunity to develop programming that promotes kinesthetic learning. Daily activities during the month of September are designed to demonstrate and highlight the connections between mind, body, and health. From an active and engaging storytime that seeks to increase comprehension while getting you moving, to designing and flying your own Frisbee, to a school readiness activity called Backpack Relays, to crafting a diagram of your internal anatomy, when you come to Miami Children's Museum, you're going to be playing, working, moving, doing.
Many of the activities that we offer children on a daily basis are movement-based to expose children to the benefits of physical activity in a fun and accessible way that can be reproduced at home and with their families. We've found that movement and learning simply go hand in hand. Daily movement activities are offered at the museum that includes Zumba, Drumming for Wellness, Dance and Movement Therapy, and more. Movement helps to engage brains and focus minds on the task at hand. When we do a short 15-minute session with basic yoga poses named after animals, the children leave with a heightened sense of awareness and calm. They go to the next activity or exhibit better prepared to process the learning that will inevitably happen there. When we ask children to bark like a dog when they hear the word "puppy" in one of our favorite read-aloud activities, children move from passive listeners to active participants in the story.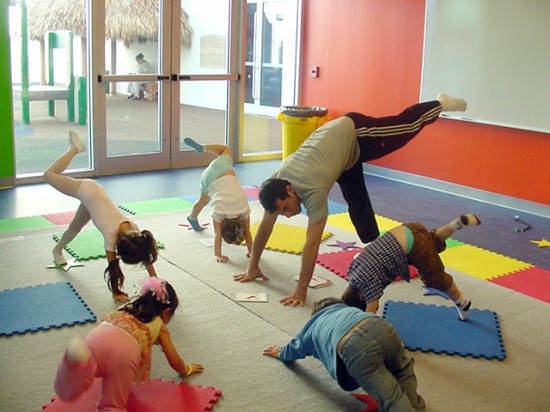 Yoga is offered to visiting children on a regular basis.
These processes seem simple on the surface, but below the play is a whole world of learning and discovery enhanced by movement and physical activity. The museum is a place where families can experiment with different kinds of learning and growing through play based activities. These activities, built on the Let's Move construct, allow us to provide opportunities for families to interact with each other in new and unique ways and, most importantly, in ways that will ultimately encourage them to lead healthier lifestyles.
- See more at: http://blog.imls.gov/?p=4126#sthash.kmMWYgBr.dpuf