Back to School with MyPlate Kids' Place
Ed. note: This is crossposted from blogs.usda.gov. See the original post here.
Back-to-school is an exciting time of year that provides new opportunities for teaching and learning. The USDA Center for Nutrition Policy and Promotion offers great nutrition resources for young children, parents, and educators for this upcoming school year. ChooseMyPlate.gov now features MyPlate Kids' Place, a new section of the website designed for children between the ages of 8 and 12 years old. MyPlate Kids' Place offers fun resources for kids, such as games, videos, and songs, that encourage them to make better food and physical activity choices throughout the school year. In addition, resources for parents and educators are available to engage their children and students in "teachable moments" that will influence their food decisions.
Adults can encourage kids to become MyPlate Champions by taking the MyPlate Champions Pledge, available at MyPlate Kids' Place. Kids who pledge to be a MyPlate Champion make a promise to themselves to eat healthy and be active every day. Children can customize their MyPlate Champion Certificate with their name and print the certificate to serve as a reminder to eat better and move more. Educators, parents, and communities can use the MyPlate Champion Certificate as a reward for children who reach healthy lifestyle goals. Learning how to live healthy is an important part of growing up, and becoming a MyPlate Champion can start kids on the right path for a lifetime of healthy habits.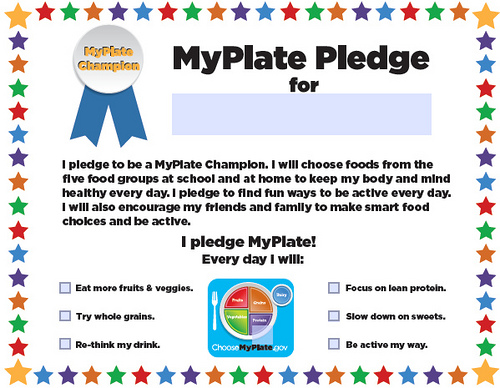 Kids who take the MyPlate Champions Pledge make a promise to themselves to make healthier choices every day.
Parent and teacher involvement is an integral part of promoting a healthier next generation. MyPlate Kids' Place provides parents and professionals with tools that reinforce healthy eating and physical activity both at home and at school. Some resources include the 10 Tips Nutrition Education Series Be a Healthy Role Model for Children, Kid-friendly Veggies and Fruits, and recipes from the Epicurious and Let's Move! Healthy Lunchtime Challenge. Teachers can also benefit from MyPlate Kids' Place with a new collection of classroom materials developed by the USDA's Team Nutrition. Serving Up MyPlate: A Yummy Curriculum contains lesson plans for elementary school teachers that integrate nutrition education into Math, Science, English Languages Arts, and Health.
Follow MyPlate on Twitter @MyPlate and on Facebook to learn about new resources available at MyPlate Kids' Place. MyPlate Kids' Place reflects recommendations from the 2010 Dietary Guidelines for Americans and supports the goals of Let's Move!, a comprehensive initiative dedicated to reversing the trend of childhood obesity within a generation. For more information visit ChooseMyPlate.gov.