Looking Back at this Summer's Let's Read! Let's Move!
Ed. note: This is crossposted from ed.gov/blog. See the original post here.
Across the country, students and teachers are cracking open their books and sharpening their new number twos for the start of an exciting new school year. And while the unofficial end of summer has passed, it doesn't mean we can't look back on all the fun we had with our friends and family.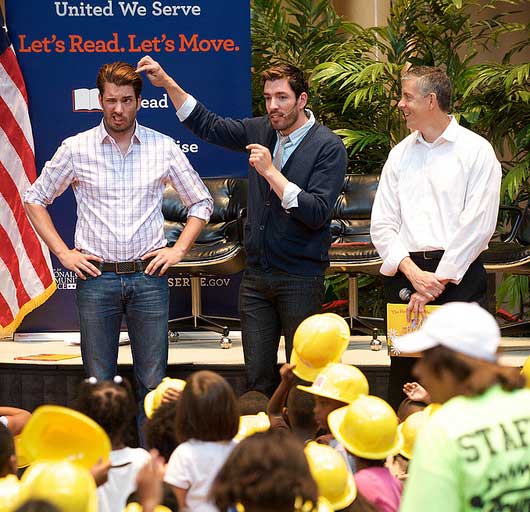 Here at the Department of Education, we're taking a look back at our five Let's Read! Let's Move! summer series events and all the fun we had keeping our minds and bodies active.
The events are part of the Corporation for National and Community Service's summer enrichment series which engages children in summer reading and physical activity over the summer months, and promotes healthy eating habits.
You can read about each of the five events at the links below and watch our video summary of all five events.
(Photo Credit: Department of Education)
Week One: Olympic figure skater and member of the President's Council on Fitness Michelle Kwan, joined Secretary Duncan, Sam Kass, White House chef and Let's Move! executive director, and Congressman John Kline (R-MN) chairman of the House Committee on Education and the Workforce.
Week Two: Secretary Duncan joined Tony award-winning actress and singer Phylicia Rashad–best known for her role as Claire Huxtable on The Cosby Show–and World Team Tennis Washington Kastles tennis coach, Murphy Jensen. Following the reading, members of Washington Kastles—Martina Hingis, Bobby Reynolds, Leander Paes and Anastasia Rodionova—and staff taught kids to play tennis on four outdoor kids' tennis courts on the U.S. Department of Education building plaza.
Week Three: Miss America 2013 Mallory Hagan joined Secretary Duncan, U.S. Secretary of Commerce Penny Pritzker, Senator Johnny Isakson (R-GA), Senator Michael Bennet (D-CO) and two-time space shuttle astronaut, George Zamka. Before the reading session, Miss America lead children in exercises to Train Like An Astronaut with Shelley Canright, senior advisor to the NASA Associate Administrator for Education. After the training exercises, students went on a "mission to space" as they learned a dance that highlights the planets in our solar system and later participated in space-themed, physical activities.
Week Four: Secretary Duncan joined Secretary of Interior Sally Jewell, the NBA's Jeremy Lin, former NFL player Brian Mitchell, Actor Hill Harper and DC Police Chief Cathy Lanier. Before the reading session, Mitchell, former Washington Redskins running back and Fuel Up to Play 60 representative, kicked off the event by leading children in an activity focused on healthy eating and exercise.
Following the reading, Harper, Mitchell, Lanier and the YMCA of Metropolitan Washington, led students in a unique Let's Move! session, including a Petite Police Academy Physical Agility Test, during which students raced through an obstacle course to identify suspects.
Week Five: Secretary Duncan joined Drew and Jonathan Scott, hosts of HGTV's hit show "Property Brothers," at the National Building Museum to close out the series.