School Districts Show Positive Trends on Nutritional Policies, Physical Activity
There is new evidence that schools across the nation are taking important steps to improve the health and wellbeing of America's children.
A new study released yesterday by the Centers for Disease Control and Prevention (CDC) finds that school districts nationwide are showing real progress in measures related to nutritional policies, physical education and tobacco policies.
It's great news for students and parents that more young people have access to healthy food, better physical fitness activities through initiatives such as Let's Move! and campuses that are completely tobacco free.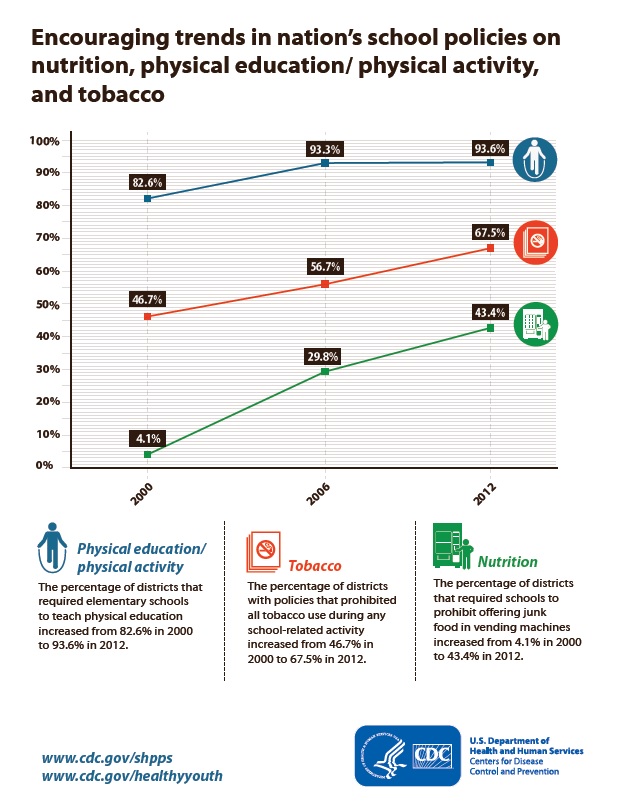 CDC's 2012 School Health Policies and Practices Study (SHPPS), the largest and most comprehensive survey to assess school health policies, found positive trends in three key areas:
Nutrition: The percentage of school districts that allowed soft drink companies to advertise soft drinks on school grounds decreased from 47 percent in 2006 to 34 percent in 2012. And the percentage of districts that made information available to families on the nutrition and caloric content of foods available to students increased from 35 percent in 2000 to 53 percent in 2012.
Physical education/Physical activity: The percentage of school districts that required elementary schools to teach physical education increased from 83 percent in 2000 to 94 percent in 2012. More than half of school districts (62 percent) had a formal agreement between the school district and another public or private entity for shared use of school or community property.
Tobacco: The percentage of districts with policies that prohibited all tobacco use during any school-related activity increased from 47 percent in 2000 to 68 percent in 2012.
To build on this progress, CDC recommends that schools develop, implement, and evaluate comprehensive school physical activity programs. To learn more about Let's Move! Active Schools, go to letsmoveschools.org.
In addition, schools can create supportive nutrition environments by promoting healthy foods and access to water -- making the healthy choice the easy choice.
To learn more about this report, click here.