Get Out, Get Active, Eat Healthy!
This morning on the National Mall, Secretary of the Interior Sally Jewell, National Park Service Director Jonathan Jarvis, and Let's Move! Executive Director Sam Kass joined executives and chefs of major concessioners to announce that visitors will have additional choices for purchasing healthy, nutritious food at national parks across the country.
"Our national parks are renowned around the world for their breathtaking landscapes and important cultural and historical sites," Secretary Jewell said. "Today, as part of the administration's efforts to promote healthier choices, we are adding yet another reason to visit our national parks and increasing the number of healthy food options available to visitors at parks from coast to coast."
Through the Healthy Parks, Healthy People initiative, Director Jarvis issued healthy food standards and sustainable food guidelines that will increase the number of menu items available at more than 250 food and beverage operations in national parks.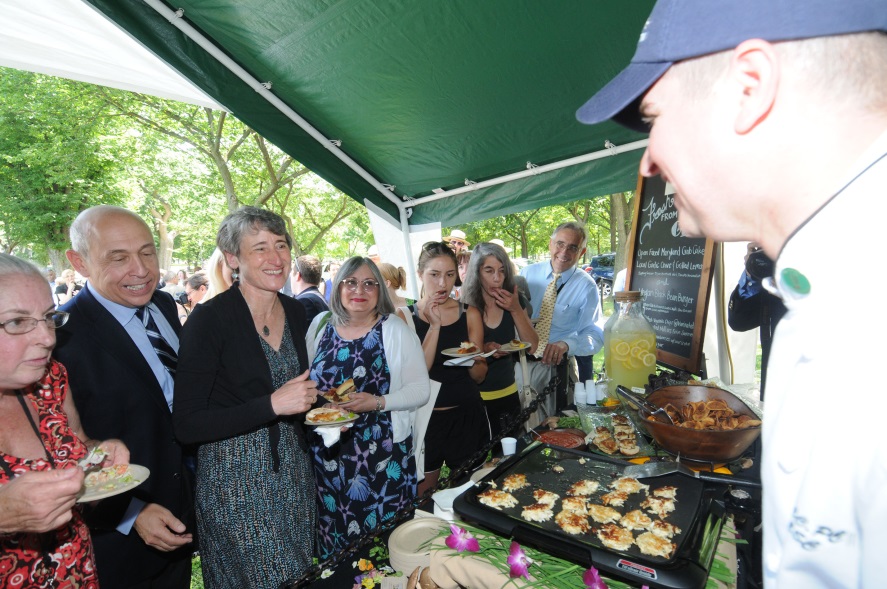 Secretary Jewell samples healthy, nutritious food at an event on the National Mall highlighting the release of new standards and guidelines through the Healthy Parks, Healthy People initiative.
The effort resulted from a collaboration of the National Park Service, park food and beverage operators, concession industry leaders, and health experts. The standards will be integrated into all new concessions contracts and applied on a voluntary basis to existing contracts.
In addition to providing more nutritious options, the National Park Service is encouraging concessioners to incorporate sustainable food sourcing and service practices, including using locally grown or raised items, providing fresh food, reducing environmental impacts, and supporting regional economies.
Already, concessioners in parks like Yellowstone and Mount Rushmore are working with local vendors to supply a variety of seasonal ingredients, from fish, beef, bread, and tomatoes to dairy products, blueberries, cage-free eggs, and vegetables. Mount Rushmore's "Lakota Popcorn" is from the harvest of the Lower Brule Sioux Tribe.
Concessioners from the Muir Woods in California to the Statue of Liberty in New York have already received local and national restaurant awards for their efforts. In addition, the first National Park Service Healthy Parks, Healthy People Award nominations have been accepted and winners, including those in the healthy food category, will be announced in July.
Learn more about the new standards and guidelines, along with other healthy and sustainable food resources by going to the National Park service website.
June is Great Outdoors Month! Click here to find a national park near you and learn more about national events to get you and your family moving outside!
A.J. Pearlman is the Let's Move! Associate Director for Policy