Celebrate National Park Week!
Saturday, April 20th was the first day of National Park Week – an annual tradition celebrating, enjoying and giving back to our country's great natural and cultural landscapes. For the next five days, parks across the country will waive their entrance fees to provide free access to thousands of miles of trails and coastlines, as well as battlefields, archeological sites and waterways. With spring now in full swing, National Park Week is a great opportunity to dust off your bicycle or sneakers, grab some healthy snacks and a water bottle and get moving outside.
You don't have to be an outdoor expert or live near an iconic park to enjoy the broad network of national parks across the country. Some of the most treasured and well-used parks are located in and around America's major cities, including San Francisco, New York City, Los Angeles, Chicago, St. Louis, Miami, San Antonio, Baltimore – and right here in Washington, D.C.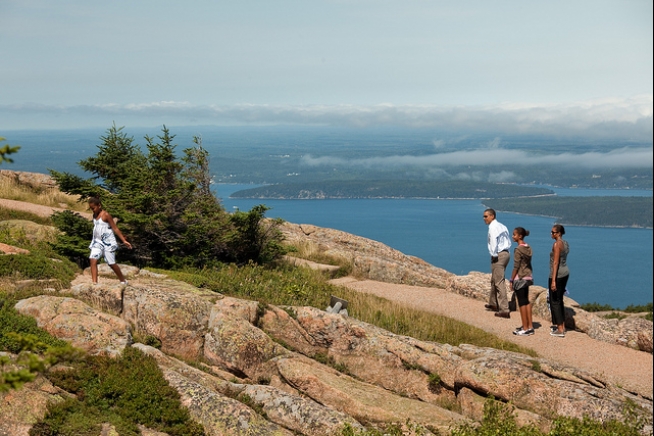 President Barack Obama and his family hike on Cadillac Mountain at Acadia National Park in Maine, July 16, 2010. (Official White House Photo by Pete Souza)
If you don't have a national park in your city or town, chances are the National Park Service has played a role in increasing access to outdoor recreational opportunities in your community. Through the Land & Water Conservation Fund, the National Park Service has funded recreational facilities, such as playgrounds and trails, in 99% of counties across America.
Take advantage of mild temperatures and loads of free activities and plan a national park experience with your family this week.
If you are interested in:
Check out the National Park Week event calendar and plan your visit today.
Once you get out there, you can capture and share your experiences online through the National Park Foundation's photo app.
See you out there!