Recipe: Orecchiette with Broccoli Rabe Pesto & Sausage
Chef Anne Burell shares her recipe for Orecchiette with Broccoli Rabe Pesto & Sausage at the 2013 White House Easter Egg Roll.
Orecchiette with Broccoli Rabe Pesto & Sausage
Serves: 4 to 6
Time: about 30 minutes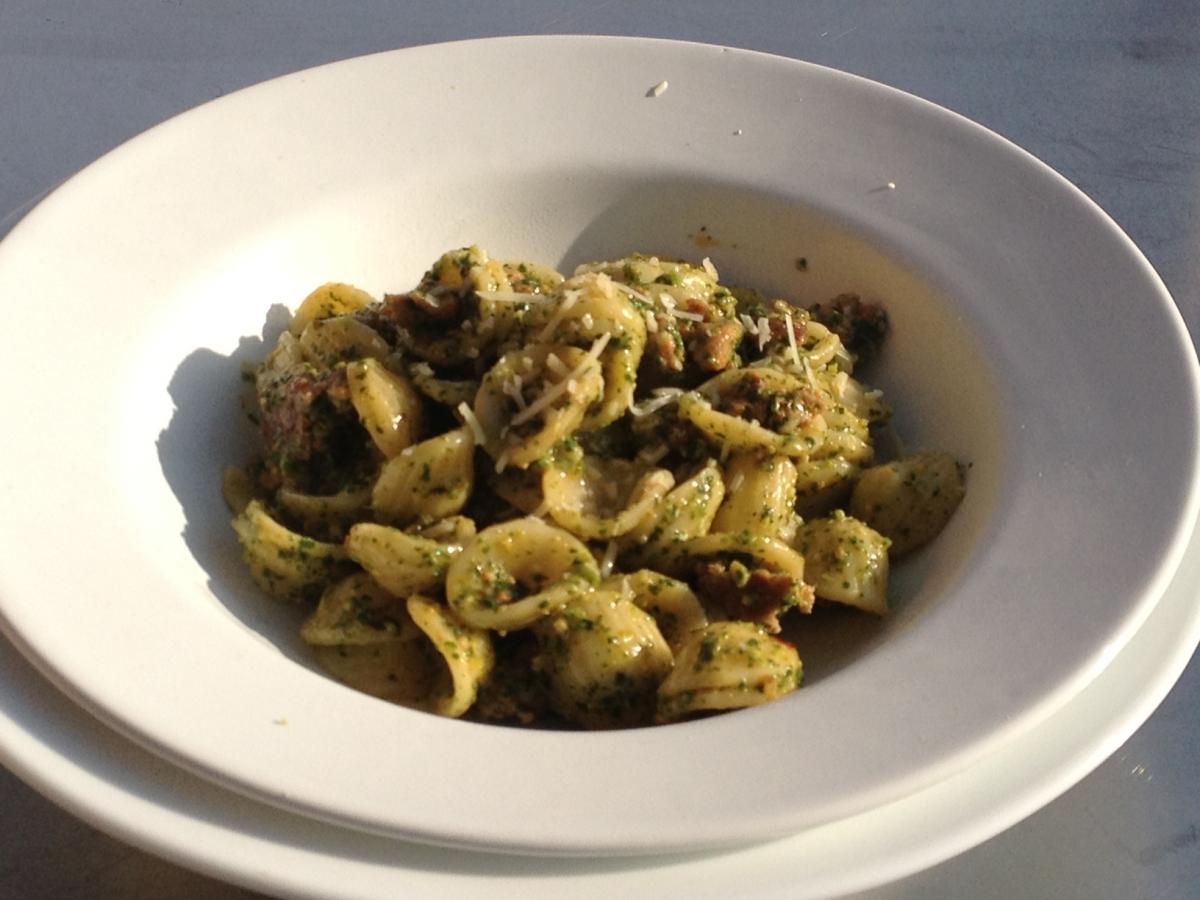 Ingredients
Pesto:
Kosher salt
2 bunches of broccoli rabe, tough lower stems removed, coarsely chopped into 1-inch lengths
½ cup chopped pistachios
¾ cup freshly grated Parmigiano
Extra virgin olive oil
¼ cup mascarpone
Pasta:
Extra virgin olive oil
½ pound Italian sausage, sweet or spicy, casings removed
1 pound orecchiette
Big fat finishing oil
Freshly grated Parmigiano

Directions
Preparing the Pesto:
Bring a large pot of well-salted water to a boil. Drop the rabe into the water, give it a swish, and remove it immediately, saving the water to cook your pasta in later.
Reserve a cup of the rabe. Toss the rest in a food processor and pulse, pulse, pulse until you have a coarse paste. Add the pistachios and Parmigiano and purée until smooth. If it seems dry, drizzle in a little olive oil while the machine is running. Add the mascarpone and pulse until combined; taste for seasoning. It should be slightly bitter, nutty, and creamy at the same time. Reserve.
Preparing the Pasta:
Coat a large sauté pan with olive oil and bring to medium-high heat. Add the sausage, using a spoon to break it up, and cook until brown and crumbly, 8 to 10 minutes.
Bring your broccoli rabe water back to a boil and toss in the pasta, cooking for 1 minute less than the package recommends. Drain the pasta and add it, along with ½ cup reserved pasta cooking water, the reserved rabe, and two-thirds of the pesto, to the pan with the sausage. Stir to combine and cook until the water evaporates and the pesto is clinging to the pasta. Remove from the heat, drizzle with some big fat finishing oil, sprinkle with more Parm, and stir vigorously to combine. Divide among bowls and serve immediately.
---
See more recipes from the 2013 White House Easter Egg Roll: