Farm to School, a Popular Ingredient at Lamar County School in Mississippi
Farm to School is an important ingredient in the recipe for successful school meals in Lamar County, Mississippi.
"The Farm to School Program helps our district offer more fruits and vegetables on a daily basis," said Julie Hamilton, school food service director of operations/training for Lamar County Schools in Purvis, Mississippi. "Being exposed to more choices, the young students will learn to like them and make healthier food choices over their lifetimes."
A student enjoys her fruit & yogurt salad at lunch time. Her mother, pictured, is a teacher at Purvis Elementary.
Utilizing the farm to school program is an effective way to make it easier to meet the new nutrition standards and help the students at the same time.
Some of the locally grown produce the Lamar County Schools purchase include apples, grapples, blood oranges, navel oranges, baby carrots, broccoli, cantaloupe, watermelon, kiwi, spinach, romaine lettuce, sweet potatoes, pears, honeydew melons, pluots, nectarines and cabbage.
The school district is very creative in using this produce to develop healthy menus for their students. They offer a spinach salad with a sprinkle of mozzarella cheese and bacon to make it irresistible. Pre-made salads that include romaine lettuce and baby carrots are available every day. Kiwi slices are used to garnish a serving of canned fruit.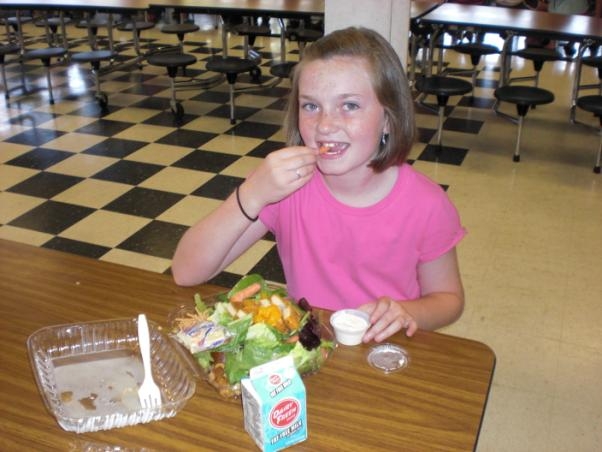 A student enjoys her Mandarin Chicken Salad at Purvis Upper Elementary.
Hamilton says kids love the signature meals offered daily with ingredients from the farm:
Monday: Chicken Caesar with romaine lettuce
Tuesday: Mandarin chicken salad with romaine lettuce, baby carrots and cherry tomatoes
Wednesday: Veggie wrap
Thursday: Fruit and yogurt salad or fruit salad and a peanut butter sandwich
Friday: Chicken or tuna salad on a bed of fresh greens, tomato and broccoli.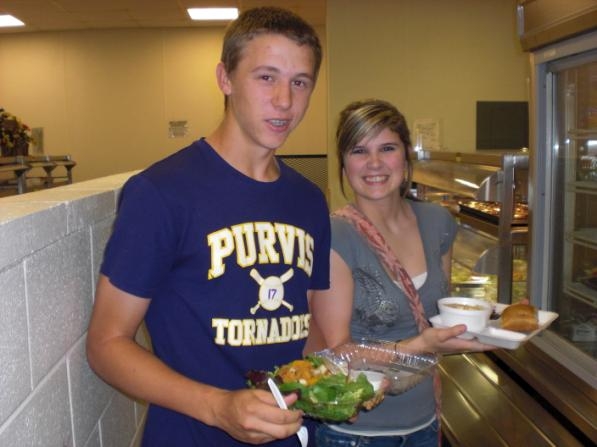 Students look forward to the signature meal on Thursday, fruit and yogurt salad or fruit salad and a peanut butter sandwich.
Ms. Hamilton attributes their success in part to having participated in USDA's HealthierUS School Challenge. "It was not as difficult as we expected meeting the fruit and vegetable requirement because we were awarded the Gold Award in five schools and the Gold Award of Distinction in six others. By achieving this award, we were meeting many of the standards for fruits and vegetables already," said Hamilton.
Let's Move! is celebrating National Nutrition Month with stories of school cafeterias serving healthy meals across the country. Learn more about the historic, healthy changes to school meals.