First Lady Calls Upon Businesses to Support Health of Families
Last week, First Lady Michelle Obama addressed health and wellness experts, thought leaders, and top executives at the Partnership for a Healthier America's "Building a Healthier Future" Summit. She highlighted some of the great work that has been done over the past few years in changing the national conversation around children's health, and cast her vision for a healthier America. Mrs. Obama, who is the honorary chair of the Partnership, invited the business community to join her in making it easier for families -- especially parents -- to make healthier choices.
"We have everything we need right here and right now to make this happen," Mrs. Obama said during her keynote address at the summit. "We just have to summon the focus and the will. And everyone has to make supporting healthy families their top priority going forward. And that's what I plan to do this coming year, and I hope that all of you will join this effort, particularly leaders from our business community."
In her remarks, the First Lady raised three important points, starting with changing the "information landscape" around us. She recalled her own pre-White House days as a working mom of two young girls with a husband who travelled, juggling work and helping with homework and everything she needed to do in order to keep her kids healthy. She talked about how daunting even a trip to the grocery store could be, and asked businesses to make those decisions points easier for parents.
"What is helpful is to provide families with the information they need when they need it," she said. "And this is the first point I want to make. The fact is that we can give parents the most comprehensive pamphlets and the most up-to-date websites. But we cannot expect folks to remember everything they've read days or weeks later when they're in that grocery store aisle, or opening that menu, or standing in front of the freezer pondering what to make for dinner. Instead, we need to offer parents clear information at the moment when they're actually deciding what to buy, cook and order for their kids."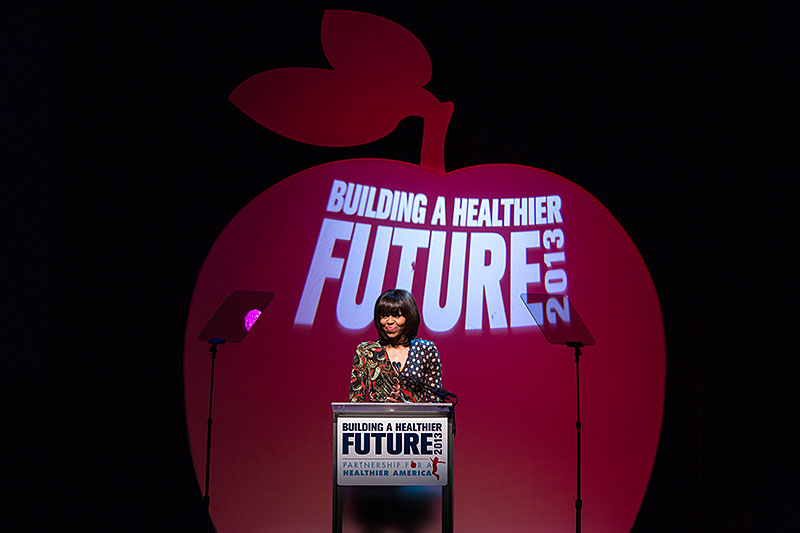 First Lady Michelle Obama delivers keynote remarks at the Partnership for a Healthier America's Building a Healthier Future Summit on childhood obesity, in Lisner Auditorium at George Washington University in Washington, D.C., March 8, 2013. (Official White House Photo by Chuck Kennedy)
Mrs. Obama also talked about her experiences in the grocery store, trying to resist her kids' nagging for the foods marketed to them while also trying to figure out what healthy choice she could make instead. She recognized the powerful tools industry leaders can work with, and asked those in the audience to help parents out as they navigate similar dilemmas. The First Lady encouraged businesses to be as innovative at finding ways to excite kids about fruits and vegetables as they are about other kinds of products.
"American companies can play a vital role to help make eating fruits and veggies fun and, yes, even cool. Study after study proves this point. For example, in one study, researchers gave kids a choice between eating a chocolate bar or some broccoli. Unsurprisingly, 78 percent of the kids chose the chocolate, and just 22 percent chose the broccoli. But when they put an Elmo sticker on the broccoli and a sticker of an unknown cartoon character on the chocolate, 50 percent of the kids chose the broccoli and 50 percent chose the chocolate. So that little Elmo sticker added 28 percentage points to broccoli. The power of Elmo!"
And finally, the First Lady challenged business to give parents the information they need to make better decisions, for their families and for themselves. "There are plenty of things that we won't do for ourselves, but there is nothing that we won't do for our children. But as it turns out, one of the most important things we can do for our children's health is to take care of our own health -– and to make being healthy truly a family affair. And giving parents the information and options they need is an important component to helping the entire household become healthier."
Helping support healthy families is critical for raising healthy kids, and Mrs. Obama asked leaders to join her in effort to do so. Getting the right information to families when they need it, encouraging kids toward healthy eating, and supporting parents in their family decision-making are key components of Let's Move!. Her remarks came after celebrating the third anniversary of Let's Move! and a national tour highlighting work across sectors to give our kids the healthy futures they deserve.