Watch the Communities on the Move Video Challenge Event Live
Today, watch First Lady Michelle Obama and Sam Kass, the White House Assistant Chef and Senior Policy Advisor for Healthy Food Initiatives, honor the winners of the Communities on the Move Video Challenge.
First Lady Michelle Obama will deliver remarks to winners of the Let's Move! Communities on the Move Video Challenge. The winners include faith and community leaders from California, Colorado, Connecticut, Florida, New York, Pennsylvania and Tennessee, who were chosen for their work to solve childhood obesity. More information on the winners can be found HERE.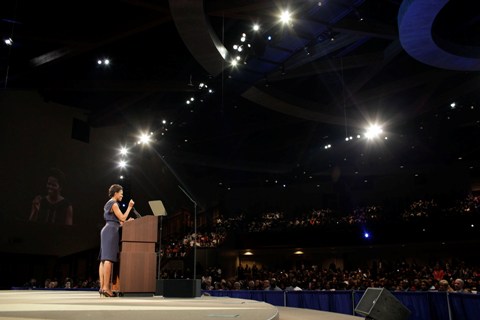 First Lady Michelle Obama delivers remarks to a gathering of 3,000 people of diverse faiths about the work of faith and community organizations across America to support healthy lifestyles. The "Faith and Community Groups Leading the Way" event was held at Northland, A Church Distributed, in Longwood, Florida during the First Lady's tour celebrating second anniversary of the "Let's Move!" initiative. Feb. 11, 2012. (Official White House Photo by Chuck Kennedy)
This event is part of the First Lady's Let's Move! third anniversary celebrations. Watch the First Lady's remarks, where she invites faith and community leaders to enter the video challenge, and get involved with Let's Move Faith and Communities by signing up online.