First Lady Highlights Consumer Demand for Healthy Choices
Today First Lady Michelle Obama visited Springfield, Missouri to highlight more affordable healthy choices available for families. Speaking to a local crowd at a Walmart, Mrs. Obama made two major points: she reminded consumers that the power to create a healthier landscape is in our own back pockets, and she challenged companies to step up.
"In the coming months and years, we need more American businesses to accept that challenge and meet those responsibilities," the First Lady said. "We need more companies to do what Walmart has done – to dig deep and find new ways to make money by giving American families better information and healthier choices."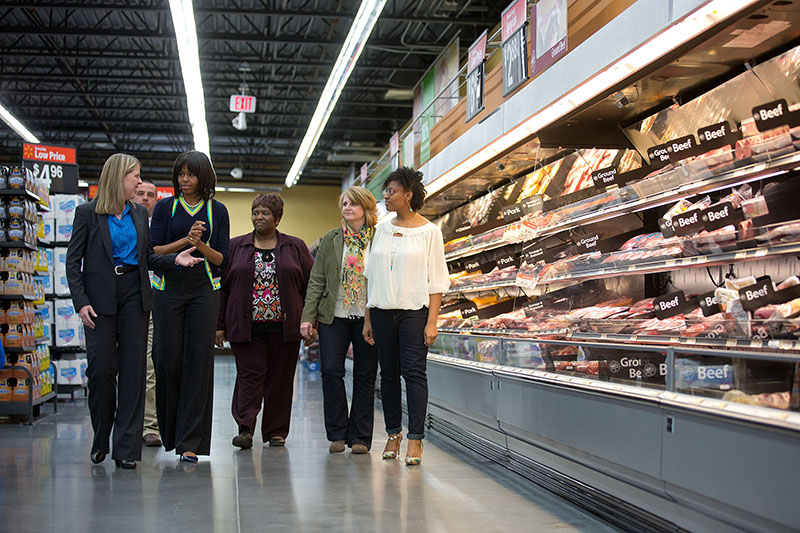 First Lady Michelle Obama tours the Walmart Neighborhood Market in Springfield, Mo., Feb. 28, 2013. The tour highlighted healthy eating, nutrition labeling, and the efforts Walmart has made to make healthier food more affordable. Joining the First Lady, from left, are: Andrea Thomas, Senior Vice President, Sustainability for Walmart, and shoppers Stephen Roberts, Stephanie Kennedy, Jennifer Sickinger, and Camielle Famous. (Official White House Photo by Lawrence Jackson)
Walmart looked inside its own business and made smart, innovative decisions, proving that what's good for families should -- and can -- be good for business. Walmart is one of several major companies to recognize the increasing demand for healthier products and to respond to that demand with better and more affordable choices for consumers. In a Wall Street Journal Op-ed by the First Lady, she noted that Disney is eliminating ads for junk foods from across its media platforms and making the food served in theme parks healthier. Walgreens is adding fruits and vegetables to shelves across 1,000 stores located in or around underserved communities. Darden Restaurants, Inc. put nutrition standards on its children's menu and is reducing calories and sodium in restaurant choices.
But that's only one part of the story Mrs. Obama told today. She encouraged consumers to do our part to demand a healthier food landscape with every dollar we put down. "And as parents and consumers, all of us need to step up as well. We need to take advantage of these choices. We need to speak with our wallets, because ultimately, we are the ones who create the demand for these products. With every dollar we spend, we're the ones who ensure that healthy choices are good for business."
Every healthy purchase is one step closer to healthy kids. So how can you start to demand healthy and turn the tide on childhood obesity? It can start with as simple a step as making your grocery list:
Plan ahead -- make a list with the MyPlate food groups and start your trip with a loop around the perimeter of the store
Shop smart -- fruits and vegetables don't have to be expensive
Make healthier recipes -- MyPlate is a great tool for planning delicious and nutritious meals
Happy shopping!
Marissa Duswalt, RD, is the Let's Move! Associate Director of Policy & Events