Let's Move! Cafeteria Cook-off
Today, Rachael Ray joined First Lady Michelle Obama and 400 elementary school students in Clinton, Mississippi to celebrate the new, healthier school meals being served in cafeterias across the country. Two teams -- cafeteria chef Fannie and celebrity chef Sunny Anderson versus cafeteria chef Wendy and celebrity Ryan Scott -- competed in a Let's Move! Cafeteria Cook-off to make the most delicious, healthy school lunch.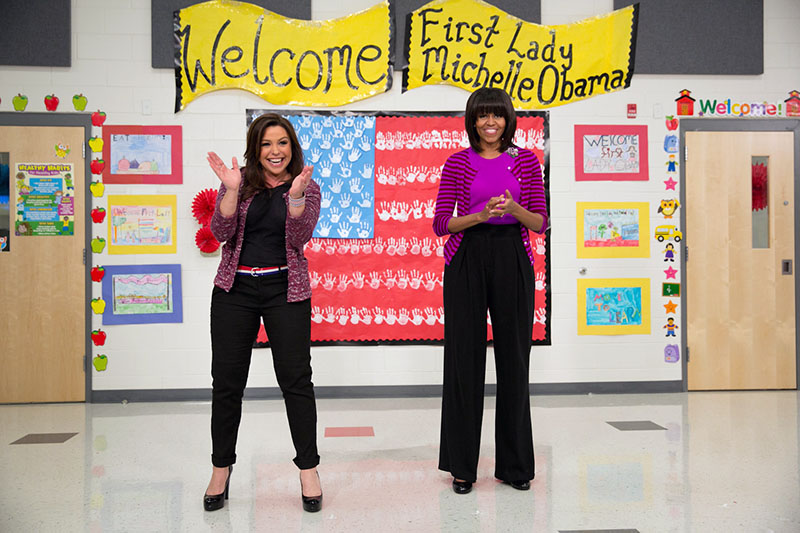 First Lady Michelle Obama and Rachael Ray film the "Let's Move! Cafeteria Cook Off" kick off competition, a "Let's Move!" initiative third anniversary tour event, at Eastside and Northside Elementary Schools in Clinton, Miss., Feb. 27, 2013. (Official White House Photo by Lawrence Jackson)
Rachael Ray and Mrs. Obama watched as student judges scored the lunches from blind taste tests. Before the winner was announced, the First Lady applauded the work of Fannie, Wendy, and their peers in school cafeterias across the country.
These are major, major achievements. And I know that getting to this point hasn't been easy. I know that a lot of folks had to put in a lot of time and effort to make all this possible. And I'm particularly proud of all of the school chefs, the food service workers at schools like this one all across this state, and all across this country. And I want to take time to recognize those folks in the kitchen who do the hard work of cooking for our kids and loving every minute of it. When we passed historic legislation to improve school lunches for the first time in 15 years, these were the folks who had to totally transform their menus in a matter of months. They went from frying to baking. They had to work with totally new ingredients. And they had to satisfy both strict nutrition requirements and, as we know, picky eaters.
And their hard work paid off! Today's celebration was held to applaud the accomplishments of school chefs across the country who are working hard to implement the new meal standards. The healthy changes to school meals align breakfasts and lunches with the latest science of nutrition, so that we're feeding our kids at school with our best knowledge of what's good for them. Based upon the recommendations from the Institute of Medicine, the new meal standards ensure students are offered both fruits and vegetables every day of the week and can choose between fat-free or low-fat milk. The standards also increase whole grains, reduce saturated fat, trans fats, added sugars and sodium, and limit calories and ensure proper portion size based on the age of children being served.
Stay tuned to Let's Move!'s blog -- we'll be highlighting school stories in the coming weeks to showcase the school chefs, schools, kids, and parents involved in these historic changes. As Mrs. Obama said today, that's what Let's Move! is all about -- working hard and working together so that our kids grow up to reach their full potential and have the healthy futures they deserve.
To learn more about the Healthy, Hunger-Free Kids Act, check out our Healthy Schools page.
Marissa Duswalt, RD, is the Let's Move! Associate Director of Policy & Events