Team USA Brings Home 44 Golds at the 2013 Special Olympics World Winter Games
This year, Team USA was represented by 148 athletes at the 2013 Special Olympics World Winter Games in PyeongChang, Republic of Korea, 88 men and 60 women. Team USA brought home home 44 gold, 35 silver, and 25 bronze medals. Athletes from 111 different countries competed in eight different sports: Alpine Skiing, Cross-Country Skiing, Figure Skating, Floor Ball, Floor Hockey, Short Track Speed Skating, Snowboarding, and Snowshoeing. Read more about the kick-off here.
The Special Olympics is the world's most competitive series of events for athletes with disabilities. These Games were founded in 1968, on the belief that people with disabilities can benefit from sports and that athletes of all abilities should be given the opportunity to achieve their dreams, whether that dream is going for gold or beating a personal best.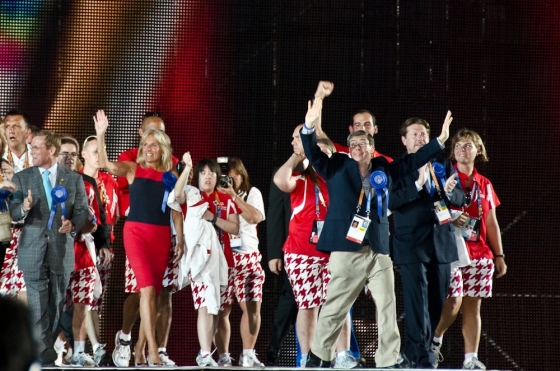 Dr. Biden joins Team USA for the Opening Ceremonies of the 2011 Special Olympics World Summer Games (Photo by State Department).
President Obama sent a Presidential Delegation to the Opening Ceremony held in PyeongChang, Korea. The Delegation, led by Tom Vilsack, US Secretary of Agriculture, included the Honorable Sung Kim, U.S. Ambassador to the Republic of Korea; the Honorable Judith E. Heumann, Special Advisor for International Disability Rights, Department of State; and Ms. Julie Petty, Member of the President's Committee for People with Intellectual Disabilities.
The President has led the way in calling for equal opportunity for students with disabilities to play sports, and just last week the Department of Education provided new guidance to school districts for making reasonable modifications to existing programs for students with disabilities.
We're cheering on Team USA as our athletes inspire us all to be active and make healthy choices. As First Lady Michelle Obama said during the 2012 Olympic Games, there all kinds of ways that you can stay active and have fun doing it. "You don't have to be an Olympian. You don't have to join a team. But there are so many ways that you can have fun and keep yourselves moving."
Marissa Duswalt, RD, is the Let's Move! Associate Director of Policy & Events