Celebrating National Girls and Women in Sports Day
Editor's note: This post was originally published on the official blog of Fitness.gov.
Today is National Girls and Women in Sports Day! Each year, this observance provides us with a tremendous opportunity to help get more girls in the game, and make a significant investment in the future of our nation. I am proud to serve as co-chair of the President's Council on Fitness, Sports & Nutrition and sound the alarm about the importance of ensuring equitable physical activity opportunities for all Americans.
Throughout my life, I have been transformed and inspired by sports. Since the first time I tumbled into a gymnasium at six years old to becoming an Olympic gold medalist, I was motivated and excited by the opportunities presented to me as an athlete and a coach. I owe my participation and success in gymnastics (and so much more) to the passage of Title IX of the Education Act of 1972, which has transformed the lives of millions of girls by granting them greater access to participate in sports.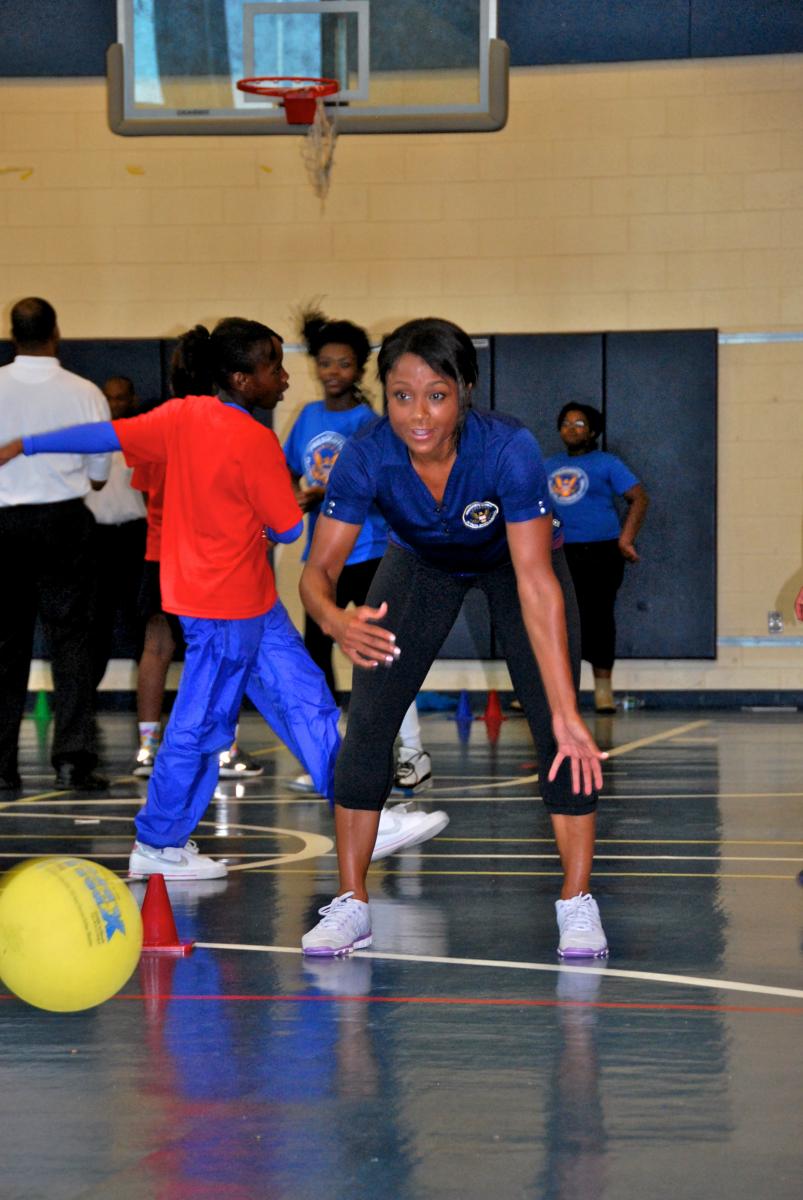 Council co-chair Dominique Dawes demonstrating her aerobic bowling skills.
One amazing example of making this investment is in Daly City, California with the Benjamin Franklin Middle School girls' basketball team. Their coach is 28-year-old Sarah Egan, who in addition to teaching social studies also teaches how to dribble, make layups and block. The school has mostly low-income students from immigrant families, and Sarah faces significant challenges with her athletes.
In the first season the team didn't win any games. But that's not what Sarah focused on. She told her team, "You're taking baby steps now. But you have it in you to catch up." The next season 80 girls tried out and Sarah began to pick up the intensity. In the third season the team caught up and won their first game. Things only got better from there: they went to the championship finals. While Sarah taught these athletes the rules of the game, they learned more from each other and the game itself.
Since 1972, there has been an increase of over 940% in sports participation for females in high school, and the NCAA reports that there has been a 456% increase in female varsity athletes as well. In addition to the physical health benefits sports participation provides, female athletes are more likely to graduate from high school and have higher self-esteem than non-athletes.
Despite these strides, there are still more hurdles to clear. But with inspirational leaders like First Lady Michelle Obama, who launched Let's Move! to end childhood obesity within a generation three years ago this week, I am confident that we will make even greater strides in the months and years ahead.
For more information about National Girls and Women in Sports Day, visit: http://www.womenssportsfoundation.org/en/home/advocate/ngwsd/ngwsd