Winter Wonderland in the Outdoors
It's tempting to hibernate during the winter, but cooler months are a great time to get out and try new activities with your family. Here are a few ideas to get you started:
Sledding
Grabbing a sled and a cruising down a slope is a fun winter tradition. Also, the return hike on an incline promotes a great workout. Safe steering!
Ice Skating
Ice skating is a great way to exercise the lower body, engage your core and best of all, spend time outdoors. Try this popular winter sport that balances fun and exercise. Check with local officials before skating on frozen ponds and lakes.
Build a snow castle
Who says that castles are just for the beach? Make this summer pastime a fun winter experience.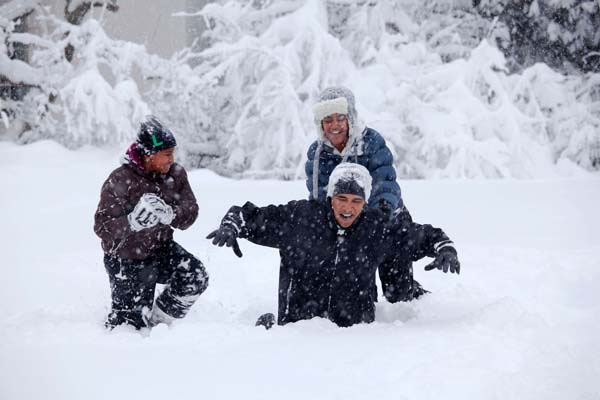 (Official White House Photo by Pete Souza)
Game Time
Create a winter version of your favorite game. This is a great opportunity to take Scavenger Hunts (e.g. geocaching), Tag, Red Light, Green Light and other fun games outside.
Hit the Slopes!
January is National Ski & Snowboard Month! For ideas on where to go and how to get started, visit Learn to Ski and Snowboard website.
Snow Angel Aerobics
Try to make a snow angel that 'flys' in sets. Perhaps you can make the snow angel as you count out loud or sing along as a group. This is a simple way to get the entire family moving outside. Be sure to bundle up, stay hydrated and wear water resistant clothing.