Holidays All Over: Toshikoshi Soba
Editor's note: Whether your holiday traditions involve lighting candles for Hanukkah or Scandinavian St. Lucia Day, hanging lights on your Christmas tree, or preparing for Kwanzaa, Omisoka, New Year's, or the Fiesta of Our Lady of Guadalupe, now is the season of celebration. And many holidays, in many places, involve family meals to celebrate the season, abundance, and the fact of our togetherness. We hope you'll enjoy these holiday recipes. This recipe was originally published in the Chop Chop Magazine Winter 2012 issue, and is part of the Holidays All Over recipe series.
Eating a bowl of buckwheat noodles before midnight on New Year's Eve is an old Japanese tradition that is supposed to bring long life and prosperity in the year ahead. Look for soba noodles in the Asian section of your supermarket; they have a nutty, hearty flavor and they're full of nutrients—plus, they often come in neat little bundles tied up with pretty paper ribbons!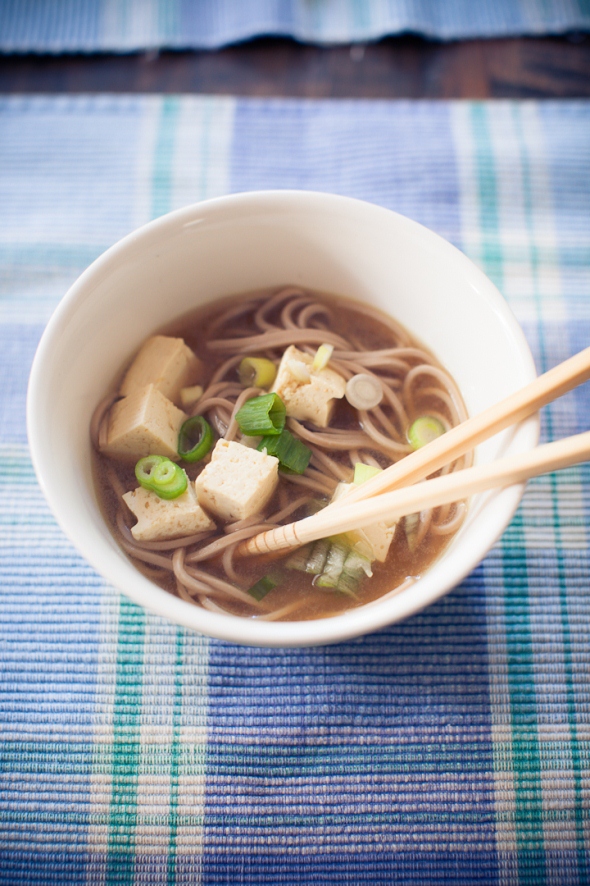 Adult: Yes
Hands-on Time: 10 minutes
Total Time: 15 minutes
Makes: 4 servings
Kitchen Gear:
Large pot with lid
Colander
Sharp knife (adult needed)
Cutting board
Medium-sized pot
Measuring cup
Measuring spoons
Wooden spoon
4 soup bowls
Ladle
Ingredients:
1/2 pound soba noodles
4 cups chicken broth
1/2 package soft or firm tofu, diced
2 tablespoons soy sauce
1/4 cup sliced scallions, including whites and greens
Instructions:
1. Fill the large pot half full of water and put it on the stove. Turn the heat to high and bring the water to a boil. Add the soba noodles and cook until tender, about 5 minutes (or follow the directions on the package). To test a noodle to see if it's done, carefully fish it out with a fork, run it under cold water, and taste it.
2. Carefully pour the pot of noodles and water out into the colander in the sink, drain the noodles well, and run cold water over them until they're cool. Divide the noodles among the bowls.
3. Meanwhile, put the medium-sized pot on the stove and pour the chicken broth into it. Turn the heat to high and, when the broth comes to a boil, turn the heat down to low and add the tofu and soy sauce. Simmer gently until the tofu is warmed through, about 5 minutes.
4. Use the ladle to divide the broth and tofu among the 4 bowls. Top with scallions and serve right away.
---
To learn more: