Holidays All Over: Ensalada De Nochebuena
Editor's note: Whether your holiday traditions involve lighting candles for Hanukkah or Scandinavian St. Lucia Day, hanging lights on your Christmas tree, or preparing for Kwanzaa, Omisoka, New Year's, or the Fiesta of Our Lady of Guadalupe, now is the season of celebration. And many holidays, in many places, involve family meals to celebrate the season, abundance, and the fact of our togetherness. We hope you'll enjoy these holiday recipes. This recipe was originally published in the Chop Chop Magazine Winter 2012 issue, and is a part of the Holidays All Over recipe series.
Nochebuena means "good night" in Spanish—but in Spain, Cuba, Latin America, and parts of the American Southwest often it is used to refer to Christmas Eve. The way Nochebuena is celebrated varies, but it usually involves a big family dinner after Midnight Mass. This traditional Mexican salad—sometimes made with cooked beets, apples, pineapple, or banana—is a beautiful and healthy addition to your holiday table.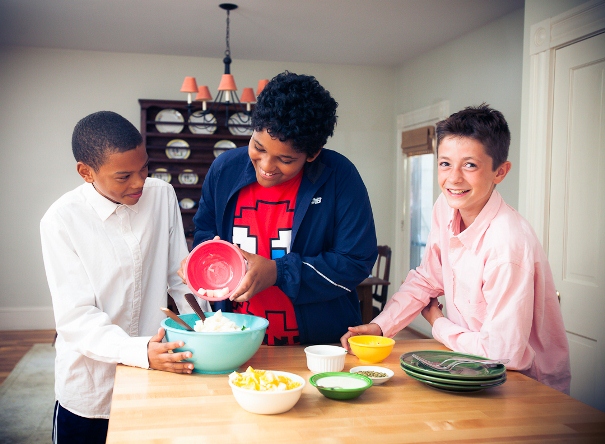 Adult: Yes
Hands-on Time: 45 minutes
Total Time: 45 minutes
Makes: 8 servings
Kitchen Gear:
Sharp knife (adult needed)
Cutting board
Large bowl
Vegetable peeler
Measuring cup
Measuring spoons
Grater or zester
Small bowl
Whisk
Tongs or salad servers
Ingredients:
1 head romaine lettuce, chopped
4 navel oranges or 2 pink grapefruits, or a combination 1 small jicama, peeled and diced (or 2 chopped apples)
6 red radishes, sliced
Grated zest and freshly squeezed juice from 1 lime
1⁄3 cup plain low-fat
Greek yogurt
2 tablespoons honey
1/4 teaspoon salt
1/4 cup lightly toasted green pumpkin seeds (pepitas) or chopped roasted peanuts
2 tablespoons chopped fresh cilantro leaves
Instructions:
Put the lettuce in the large bowl.
Peel the oranges and/or grapefruits and pull them apart into sections. Cut each section into bite-size pieces and add them to the bowl.
Add the jicama and radishes to the bowl.
In the small bowl, whisk together the lime zest and juice, yogurt, honey, and salt. Taste the dressing and add more lime, honey, or salt if you think it needs it.
Pour the dressing over the salad and toss gently. Sprinkle with the pumpkin seeds and cilantro, and serve.
---
To learn more: