New Jersey School Gardens Offer More Than Just Produce
Editor's Note: This article was cross-posted from the USDA blog
New Jersey Farm to School Network and Edible Jersey Magazine recently awarded their inaugural School Garden of the Year Award to three projects for innovative efforts to connect their school gardens to the cafeteria, curriculum, and community. How fitting that schools in the Garden State are host to a number of exemplary school gardens!
Students at Lawrenceville Elementary School in Lawrenceville, NJ cultivate their school garden from planting to harvest!
The garden co-cultivated by William H. Ross Elementary School and Eugene A. Tighe Middle School in Margate City, NJ came in first place. The schools' Garden Gourmet tasting program allows students to sample the fresh fruits and vegetables harvested from the garden—and the garden opportunities don't end at lunch! At Ross Elementary, students digitally photograph vegetable beds and write multiplication and division word problems based on the garden layout. These math word problems are then solved by fourth grade students.
Honorable mentions went to Lawrenceville Elementary School in Lawrenceville, NJ and St. Philip's Academy in Newark, NJ. Both schools also found fun, exciting ways to incorporate their gardens into classroom curricula. Lawrenceville Elementary's kindergarteners used leaves of all different shapes and sizes from the garden in their math lessons on measurement. The school's second and third graders incorporated food into their lessons on world exploration by discussing the origins of today's familiar foods.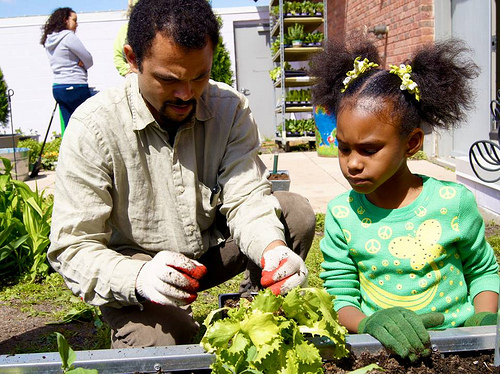 Lessons at St. Philip's Academy in Newark, NJ put an emphasis on fresh, healthy foods like those grown in their garden.
Third graders from St. Philip's Academy used their garden for a "Garden Fresh Pasta" project. Science lessons taught students how to tell when crops are ready to harvest. Students then got to work using their writing, math, and cooking skills in designing and preparing a seasonal pasta recipe based on the garden's offerings.
The contest, sponsored by Edible Jersey, Whole Foods Markets, and Applegate Farms, was open to any Pre K-12 New Jersey school with a school garden. Interested in learning more about school gardens and incorporating food literacy into the classroom? Read about USDA's Farm to School effort and visit the Let's Move! School Garden Checklist for a step-by-step guide on starting a garden at your school.