The Gardeners' Share Grows in McLean
Editor's note: This is post was orginally published on U.S. Department of Agriculture.
In McLean, a community tucked inside Fairfax County, not everyone can access the food they need for good health. I interviewed Julie Mendoza about her efforts to connect hungry families in McLean with fresh produce.
Julie knew that Share McLean, a food pantry that serves hungry families in the area, often lacked fresh produce. As she was walking through the McLean community garden one day, she noticed that there was an abundance of fresh fruits and vegetables. She decided she would try to facilitate a relationship between the garden and Share McLean, calling it The Gardeners' Share of McLean.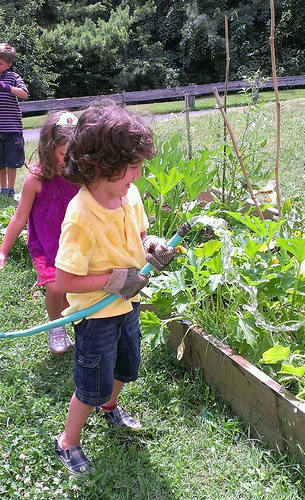 Young gardeners at St. Luke's United Methodist Church grow food for The Gardener's Share. (Photo credit: U.S. Department of Agriculture)
"I wrote a letter… and got permission to not only use the additional supply of produce but to also begin planting fruits and vegetables," said Julie. She also connected with a USDA employee, Bob Baldwin, who volunteers his time and expertise on the project.
The energies of the McLean community, under the leadership of Julie, have provided an alternative to the packaged and shelf-stable foods that often come to food pantries. Her work is also answering First Lady Michelle Obama's call to increase healthy food access for families around the country. The First Lady's Let's Move! initiative emphasizes the important role community gardens play in increasing access to fresh produce.
They also began expanding the variety of vegetables that were available. According to Mendoza, "we now plant almost everything, including pumpkin, squash, tomatoes, peppers and beans."
Julie believes it is important to "reintroduce children to healthy eating through connecting them with the earth." To achieve this goal, Julie engaged local Girl Scouts in the process of gardening and the girls came up with the idea of writing a "Dear Mrs. Green Journal." Here, the girls "write about working with produce and what they learned from the garden." Boy Scouts also used the McLean Garden for an Eagle Scout project by building fences and gates in order to increase the amount of space that could be used for planting.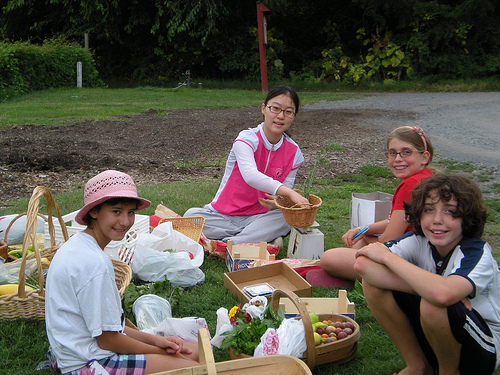 Youth garden volunteers organize their harvest before donating it to Share McLean. (Photo credit: U.S. Department of Agriculture)
The spark of youth involvement led older residents to "donate" their gardens to Julie's initiative. And other gardens, like the St. Luke's United Methodist Church garden, are supporting the effort too. In the first year of the Gardeners' Share of McLean, they collected nearly 250 pounds of freshly grown produce and this season, donations are nearing 800 pounds.
Julie exclaims "We have young, old, and everyone else engaged in this process and it is really changing lives!"
Yaseen Eldik is a Truman Summer Institute Fellow at the U.S. Department of Agriculture Center for Faith-Based and Neighborhood Partnerships.