Learn to Grocery Shop on a Budget
How do you provide healthy meals for your family on a limited budget? Chef Greg Silverman, a Chefs Move to School participant, is working to help answer this common question.
Chef Greg manages the Shopping Matters Program, a guided grocery store tour sponsored by the non-profit Share Our Strength to teach individuals how to read labels, compare unit prices, and contrast various forms of fruits and vegetables. Tours are led by experts in the field, including culinary and health professionals. At the end of each 60 to 90 minute tour, participants put their new knowledge to use through a challenge: buy groceries to make a healthy meal for a family of four with only $10.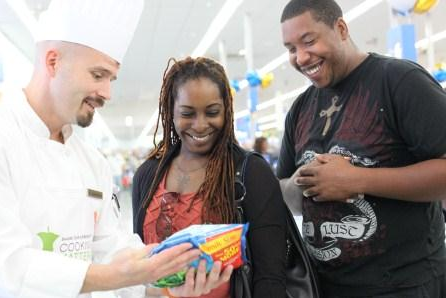 American Culinary Federation Chefs volunteer their time to help Wal-Mart shoppers learn healthy, affordable and delicious cooking and shopping tips (Photo courtesy of Share Our Strength).
The program recently debuted in Maryland and Arkansas, two states where many children—nearly 18 percent in Maryland and 25 percent in Arkansas—are at risk of food insecurity. Maryland's debut came out with a bang on September 15th. Tours were offered in every Walmart store in Maryland, reaching nearly 1,000 parents and caregivers.
Three days later, on September 18th, the program debuted in Arkansas. First Lady of Arkansas, Ginger Beebe, joined community members in Arkansas to tour Walmart's new Neighborhood Market in Little Rock. The tour was followed by Cooking Matters, where Chef Greg demonstrated how to put the new ingredients to good use.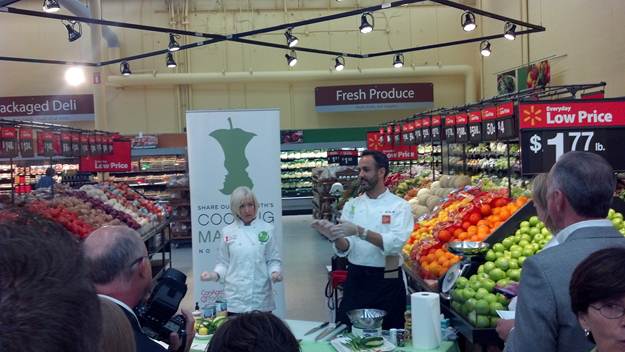 Arkansas First Lady Ginger Beebe and Chef Greg Silverman of Share Our Strength perform a Cooking Matters culinary demo together (Photo courtesy of Share Our Strength).
Try some of these tips for smart shopping for fruits and vegetables on a budget from ChooseMyPlate.gov:
1. Celebrate the season! Buy fresh fruits and vegetables that are in season, which are usually less expensive.
2. Why pay full price? Check the local newspaper, online, and at the store for sales and coupons.
3. Stick to your list! Plan meals ahead of time and make a gorcery list so you can save money by buying only what you need.
4. Don't shop hungry. Shopping after eating will make it easier to pass on the tempting snack foods.
5. Buy in bulk when items are on sale. You can buy a large size bag of fruits and vegetables you eat often, or store canned or frozen foods when they go on sale.
Share our Strength created Shopping Matters in response to the biggest barriers to healthy eating evidenced in their survey of low-income Americans attempting to eat healthy on a budget. By teaching parents and caregivers how to shop for healthy foods on a budget, Shopping Matters will help to ensure that kids are getting the food they need and be a critical component to Share our Strength's larger initiative, the No Kid Hungry Campaign. To learn more about Shopping Matters or to facilitate a Shopping Matters in your community, visit ShoppingMatters.org. You can also watch a video and pick up some tips about shopping on a budget right away.