Doctor's Orders: Go Out and Play!
In late September, the National Park Service and several partner organizations launched Healthy Parks Healthy People Greater Washington Area, a new initiative to promote the many health benefits of time in nature, and to connect DC area kids and families to the parks and green spaces in their communities.
Three active events were planned to kick off the initiative. On September 20, a group of students from Neval Thomas Elementary School gathered at the foot of the Lincoln Memorial to cut the ribbon for DC's first "TRACK trail" on the National Mall. That weekend, Fort Dupont Park hosted its 4th annual "Feet in the Street" 5k race and fitness festival, providing free bike tours, outdoor fitness classes, and rock climbing lessons to more than 500 people. In Rock Creek Park – one of America's first national parks – rangers led free hikes and educational tours as part of "Rock Creek Park Day."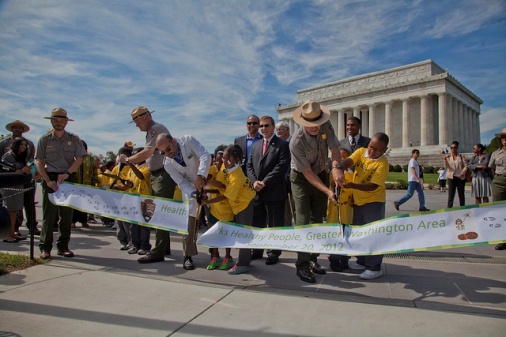 Third graders from Neval Thomas Elementary School help cut the ribbon for the DC Area's first TRACK Trail on the National Mall. (Photo Credit: National Park Service)
Did you know that there are 38 national park units in the DC area? Whether you live nearby, or you're just visiting, there are several ways to take advantage of these places year round:
Get moving on more than a dozen new TRACK Trails! This year, kid-friendly TRACK Trails will be installed in 13 national parks in the DC area. Each TRACK Trail includes a series of self-guided adventures and fun facts. After kids complete a TRACK Trail, they can visit the program's website to log their progress and earn a prize.
Talk to your family doctor about the benefits of moving outside. The National Park Service and the National Environmental Education Foundation are working with the DC Department of Public Health, the National Children's Medical Center, and Unity Health Care on an effort to prescribe outdoor activity at national park units.
Participate in free outdoor programs and events. From the popular Junior Ranger program to of guided nature walks, canoe trips, bike tours, and more, national parks in the DC area offer dozens of free activities and events each week. Visit the National Park Service website to find out what's going on in the parks near you.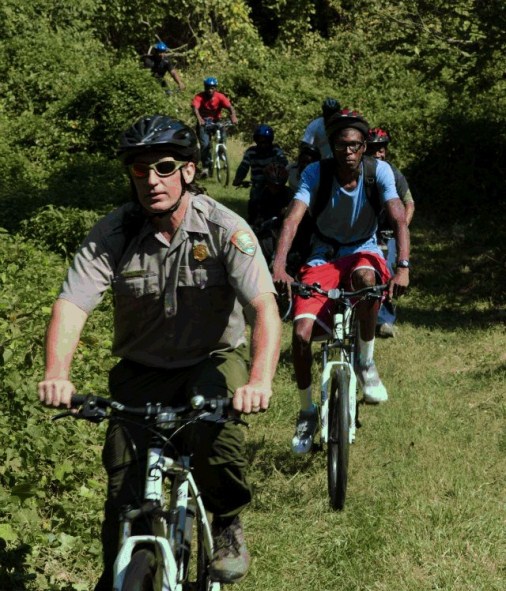 A National Park Service ranger leads an adventurous group on a bike ride through DC's Fort Dupont Park. (Photo Credit: National Park Service)
Healthy Parks, Healthy People Greater Washington Area is part of the Healthy Parks Healthy People initiative of the National Park Service.
Ali Kelley is the Deputy Associate Director for Let's Move Outside!