Get Up, Get Out, Get Moving!
Ed note: This post was originally published on Fastlane, the official blog of the U.S. Department of Transportation.
As a father, grandfather, and former schoolteacher, I know how important it is to ensure that students arrive to school safely every day.
That's why I'm pleased that more than 3,300 schools across the country are participating in this year's Walk to School Day today, the 16th year this international effort has encouraged more families to get out of their cars and on to their feet to enjoy the many benefits of safely walking, bicycling, and even scootering to school.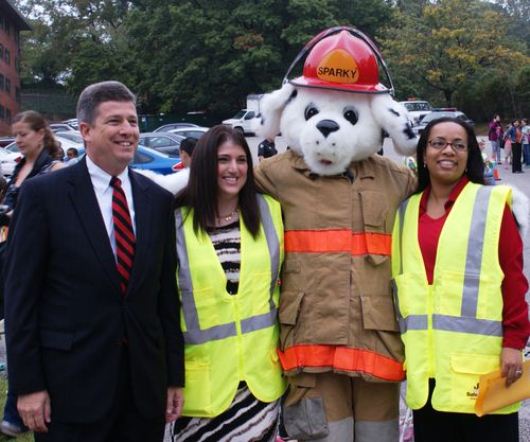 Deputy Secretary Porcari with PBES Principal Rachel Dubois, Montgomery County Fire Department's Sparky, and Assistant Principal Orinda Nelson (Photo credit: U.S. Department of Transportation)
To celebrate the big day, earlier this morning, Deputy Secretary John Porcari joined a group of Piney Branch Elementary School students and parents in Takoma Park, Maryland.
Through the Safe Routes to School Program, DOT has helped Piney Branch--and schools around the country--fund education programs, school crossing guards, and safer sidewalks near schools.
Today, after everyone arrived energized by the walk and ready for a day of learning, Deputy Secretary Porcari presented Piney Branch with an award for its exemplary Safe Routes to School program, which makes it possible for many of the school's students to walk and bike every day of the school year.
As the Deputy Secretary said, "Every child should have the opportunity to walk to school safely. Walk to School Day encourages children to experience walk-friendly environments and affirms the importance of walking and biking for a new generation of Americans."
And others recognize the value of this program, too. The National Center for Safe Routes to School recently received a Bright Ideas in Government award from Harvard University for encouraging communities to collect school travel data and to use the information to help more kids get up, get out, and get moving.
Walking to school is more than just a fun way for students to get good exercise. Walking to school gives students time to talk to their parents, caregivers, friends, and neighbors. It helps them arrive to class alert and energized, ready to take on the school day.
It also helps our environment by reducing congestion near schools, putting less pollution in the air our children breathe.
And it enhances the quality of life for the entire community.
As Lauren Marchetti, director of the National Center, said, "Each year the event continues to reinforce the importance of safer environments for walking and bicycling, more physical activity, fewer car trips, and a cleaner environment for students, parents and all community members. It also provides a unique opportunity for families to get outside and connect with their neighbors."
We want everyone to be safe--today and throughout the school year--whether they are traveling by foot, car, bike, or the familiar yellow school bus. Through the Safe Routes to School program, DOT will continue to help communities take steps to make getting to school, safe, easy, and healthy for all students.
John Porcari is the U.S. Deputy Secretary of Transportation